Feb. 27-28: 44th Annual Pan African Conference
Thursday, February 27, 2020
4:30 PM - 6:00 PM
Conference check-in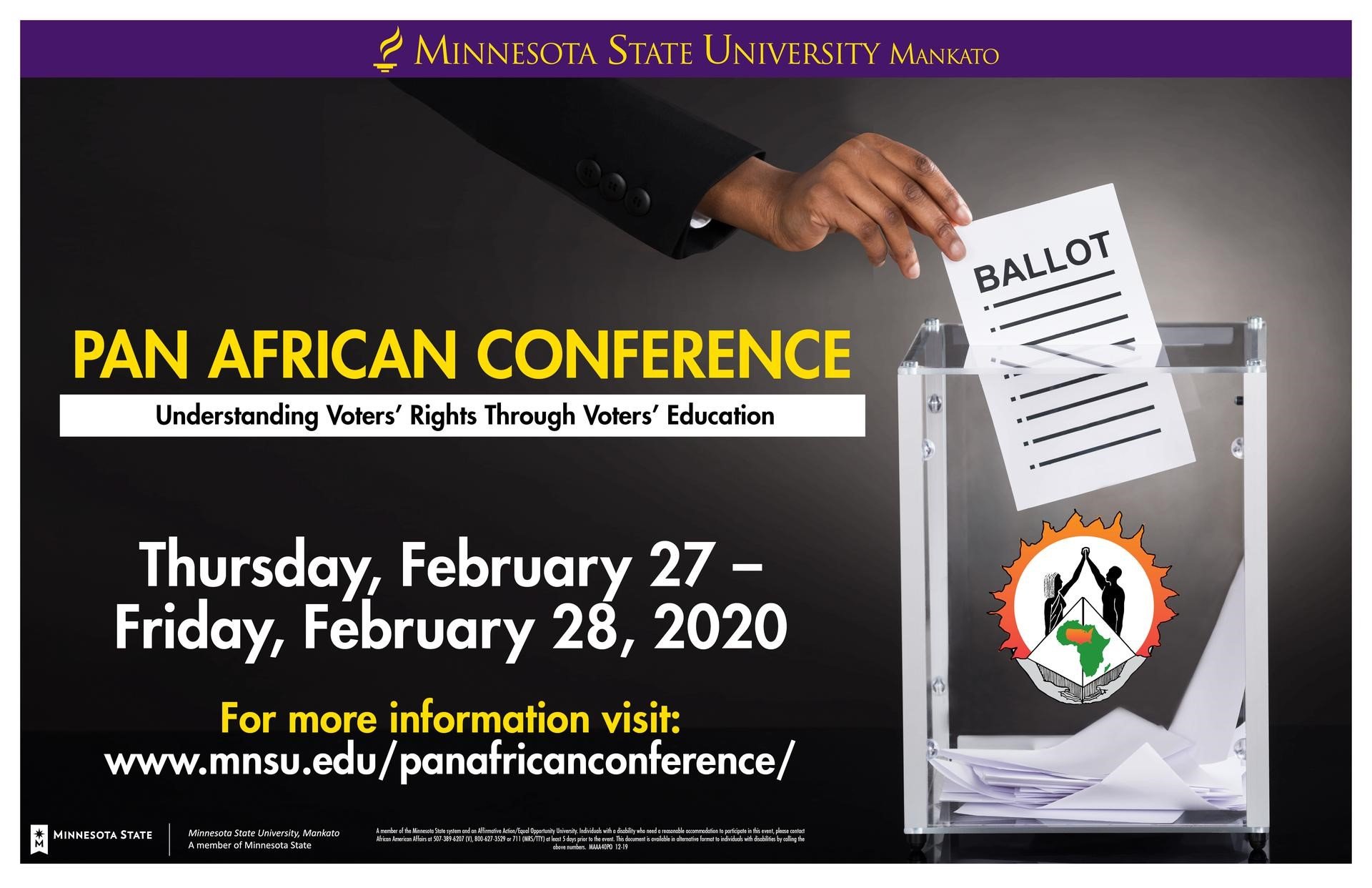 KEYC TV coverage: Feb. 20, 2020

KEYC TV coverage: Feb. 28, 2020
Mankato, Minn. – Minnesota State University, Mankato's 44th annual Dr. Michael T. Fagin Pan African Conference will be held on campus Thursday and Friday, Feb. 27-28, with this year's topic addressing "Understanding Voters' Rights Through Voters' Education."
The conference registration deadline has been extended to 1 p.m. on Friday, Feb. 21. Those wishing to register may click here.
(NOTE TO EDITORS: Media interested in covering the conference may contact Kenneth A. Reid, director of the Center for African American Affairs at Minnesota State Mankato, by phone at 507-389-6207 or by email at kenneth.reid@mnsu.edu.)
According to a provided conference preview, the 2020 conference "will revisit moments in history that led to the Voting Rights Act of 1965 and the voice of the people being heard. Community members and future leaders will better understand the importance of voting laws and voters' rights. Participants will also explore the implications of voter turnout, buy-in, and support of elected officials, laws, and policies on not just at the national level, but at the local and state level. History and sociology will be intertwined to help educate populations on the importance of utilizing their right to vote."
Conference check-in begins at 4:30 p.m. on Feb. 27. A complete conference schedule is available here.
The conference's opening ceremony keynote address will be delivered Feb. 28 from 9:45-10:45 a.m. by Ja'Mal Green, 2018 Chicago mayoral candidate and activist.
For more information, please contact the 2020 Pan African Conference co-chairs, Bernadeia Johnson, assistant professor in the Department of Educational Leadership, by email at bernadeia.johnson@mnsu.edu; or Kenneth Reid, director of the Center for African American Affairs at Minnesota State Mankato, at kenneth.reid@mnsu.edu.
The Pan African Conference is committed to developing and enhancing the leadership skills in collegiate black young adults, as well as provide opportunities for academic scholars, professionals and community members to discuss issues that affect descendants of Africa on a local, national and international level.
Minnesota State Mankato, a comprehensive university with 14,297 students, is part of the Minnesota State system, which includes 30 colleges and seven universities.