Minnesota State Mankato will host 'Day of Service' on Martin Luther King Jr. Day
Monday, January 17, 2022
1:00 PM - 4:00 PM
Centennial Student Union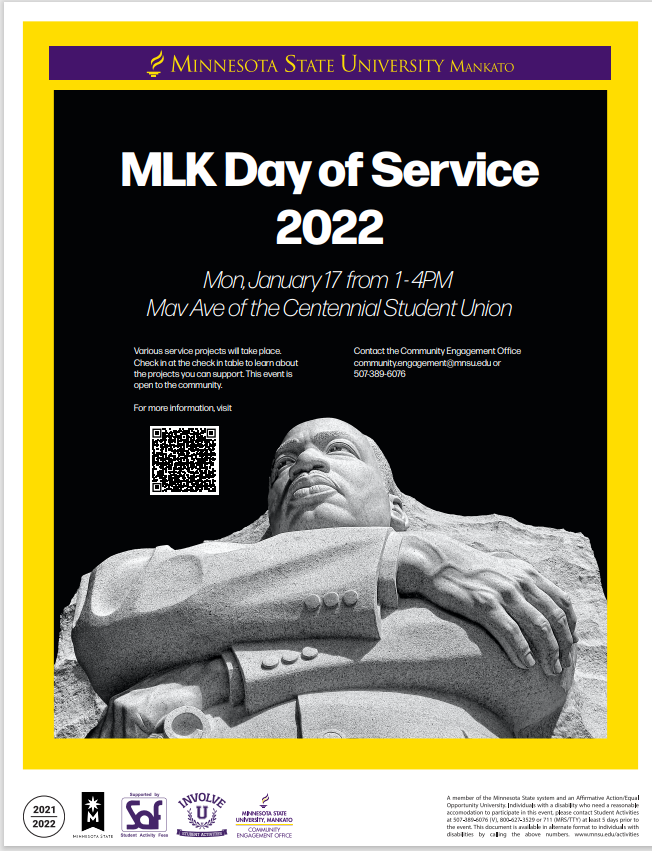 Mankato, Minn. – Minnesota State University, Mankato's Community Engagement Office will host a "day of service" to benefit the Mankato-area community on Martin Luther King Jr. Day (Monday, Jan. 17) from 1-4 p.m.
The public is welcome to participate in a variety of service projects Monday from 1-4 p.m. by stopping in at the check-in table near Jazzman's Café on the first floor of Centennial Student Union. Minors should be accompanied by a responsible adult. Because Monday is a national holiday, parking in the University's visitors pay lot (parking lot 4, near Centennial Student Union) will be free on Monday.
Volunteers are invited to join in a variety of activities that will include making tie blankets for the Connections Shelter, making cards for Cardz for Kidz, putting together laundry pod bundles for several local shelters and more projects.
Updates will be posted online at https://mankato.mnsu.edu/university-life/activities-and-organizations/community-engagement-Office/events/mlk-day-of-service-2022/.
For more information, please contact Karen Anderson, Minnesota State Mankato's assistant director of community engagement, by phone at 507-389-6076 or email at karen.anderson@mnsu.edu.
According to the AmeriCorps website, Martin Luther King Jr. Day is "the only federal holiday designated as a national day of service to encourage all Americans to volunteer to improve their communities."
Minnesota State Mankato, a comprehensive university with 14,546 students, is part of the Minnesota State system, which includes 30 colleges and seven universities.