Executive Chefs from University Dining Services to Demonstrate How to Prepare 3 Popular Meals
Facebook Shows are scheduled for Nov. 11, Nov. 18, Dec. 3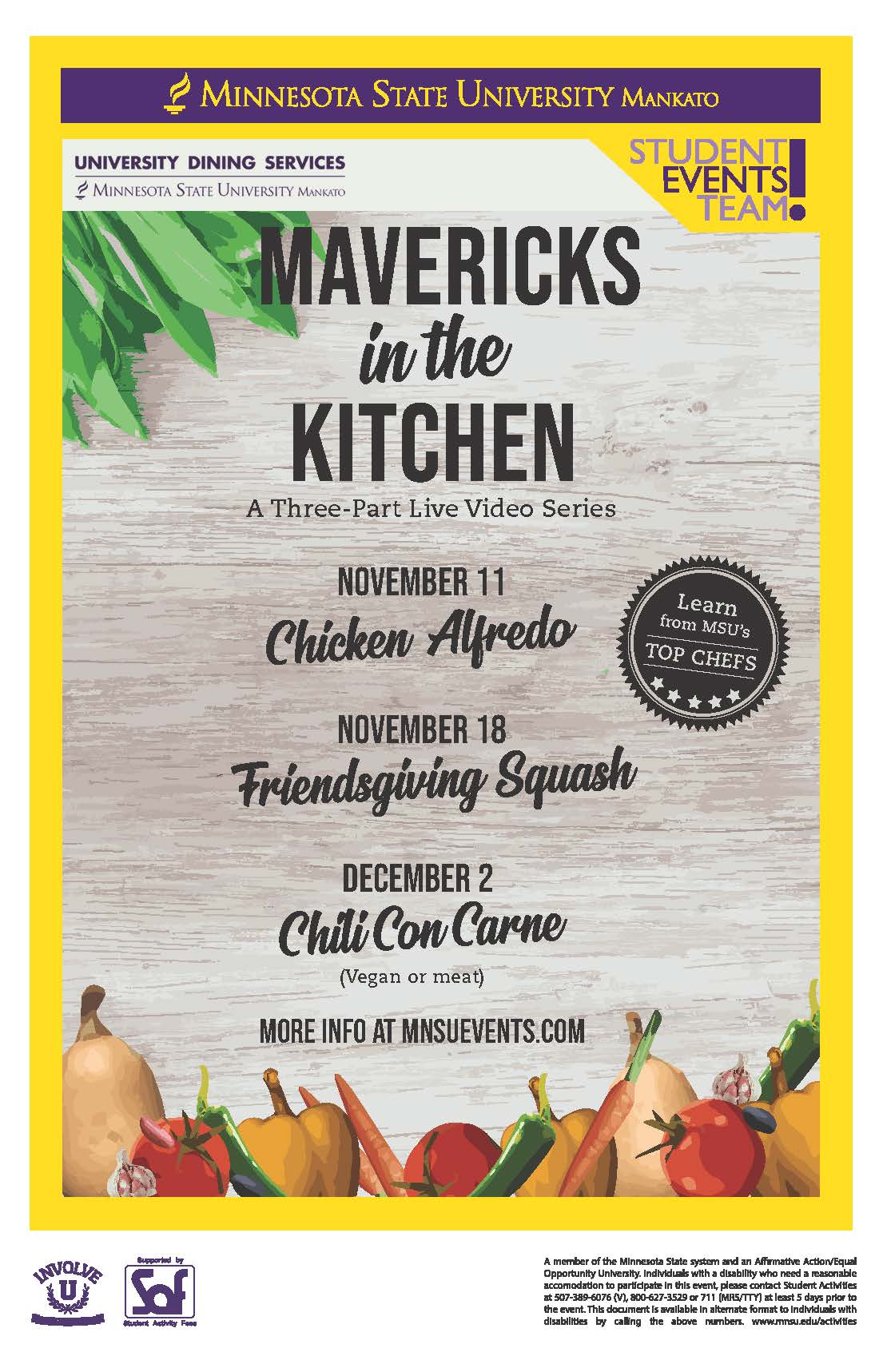 Mankato, Minn. – Minnesota State University, Mankato's Student Events Team and University Dining Services invites the public to virtually attend three cooking shows that will be streamed live on Facebook at 5 p.m. on Wednesday, Nov. 11; Wednesday, Nov. 18 and Thursday, Dec. 3.

Each show will feature a different recipe, instructions and cooking tips for an "easy-to-make meal for two," and will be hosted by an executive chef from University Dining Services at Minnesota State Mankato.

Attendees will learn how to prepare chicken alfredo pasta at 5 p.m. on Nov. 11, "Friendsgiving" squash at 5 p.m. on Nov. 18 and chili con carne (vegan or meat) at 5 p.m. on Dec. 3. The chefs will answer questions from attendees during each show. Recipes are available at the above links.

The Facebook live stream link is https://www.facebook.com/events/379165179938354/.

For more information on this event contact Julie Tonsager, Student Events Team special events chair, by email at julie.tonsager@mnsu.edu or by phone at 507-389-6076.

"This event is perfect for everyone who loves to cook or wants to start cooking," said Tonsager. "The meals are easy, affordable, and delicious. A great date night meal!"


Said Bill Tourville, assistant director for campus programs at Minnesota State Mankato: "I'm glad we can bring Mankato a fun opportunity and highlight the talent in University Dining Services. This is the perfect way for student to connect with campus and remain safe."

The Student Events Team is a student-led organization that produces fun, interactive, educational events where students make lifelong memories and celebrate their Maverick pride.

Minnesota State Mankato, a comprehensive university with 14,604 students, is part of the Minnesota State system, which includes 30 colleges and seven universities.