June 11: Minnesota State Mankato to Host Memorial Celebration of Life Service for Former President Margaret R. Preska
Saturday, June 11, 2022
2:00 PM - 4:00 PM
Ted Paul Theatre, Earley Center for Performing Arts
Minnesota State University, Mankato News Release -- May 9, 2022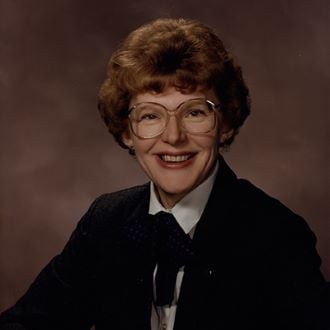 Mankato, Minn. – Minnesota State University, Mankato will host a memorial celebration of life service for former President Margaret R. Preska (pictured at right) on Saturday, June 11 at 2 p.m. at the University's Ted Paul Theatre in the Earley Center for Performing Arts.
Preska, who died Nov. 17 at her home in Scottsdale, Arizona, served as Minnesota State Mankato's 10th president from 1979-1992. She was 83.
The June 11 celebration of life service for Preska is open to the public, and following the program, there will be a reception in the lobby and time to greet Preska's family.
Paul J. Hustoles, former faculty chair of Minnesota State Mankato's Department of Theatre and Dance, will serve as master of ceremonies at the memorial service, which will include comments by each of the three Minnesota State Mankato presidents who served after Preska (Richard Rush, Richard Davenport and Edward Inch).
The service will also include theatre students singing selections from Preska's favorite music and remembrances from family and friends.
Preska's daughter (Ellen), sons (Robert and William), two of Preska's sisters and other immediate family members are expected to speak.
In lieu of flowers, memorials are preferred to the Minnesota State University, Mankato Foundation. Those wishing to make a memorial gift may call 507-389-6832, or visit the Margaret Preska memorial page, where gifts can be made to the Preska Scholar Program Endowment and/or the Margaret and Dan Preska Theatre Scholarship.
Minnesota State Mankato, a comprehensive university with 14,546 students, is part of the Minnesota State system, which includes 30 colleges and seven universities.