Oct. 29: Caravan du Nord Features Workshops, Social Events, Performances
Friday, October 29, 2021
3:00 PM - 9:00 PM
Evening performance in Elias J. Halling Recital Hall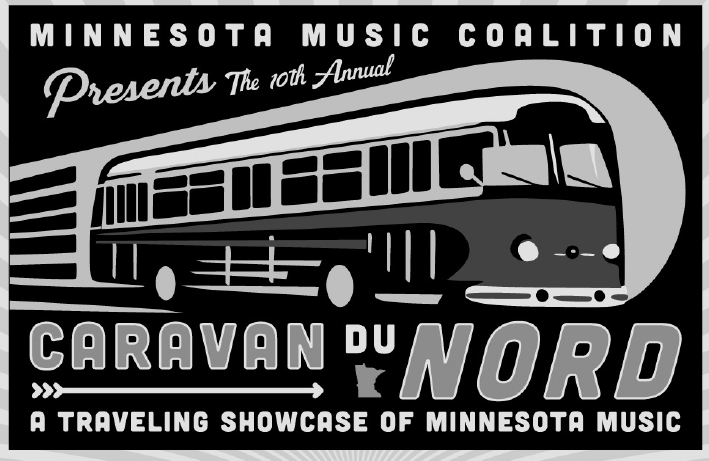 Minnesota State University, Mankato Department of Music News Release
Mankato, Minn. – The 10th Annual Caravan du Nord will visit Minnesota State University, Mankato on Friday, Oct. 29 featuring daytime workshops and music industry networking opportunities for up-and-coming area musicians. Events include afternoon workshops in Performing Arts Center 101, a social hour at Johnny B's at University Square, and an evening concert in the Elias J. Halling Recital Hall of the Earley Center for Performing Arts. The Caravan du Nord is an ongoing project of the Minnesota Music Coalition
All Caravan du Nord events are free and open to the public. For more information, call the Performance Series office, (507) 389-5549.
Caravan du Nord events are co-sponsored by the Minnesota Music Coalition, 89.3 The Current, and the Minnesota State University, Mankato Performance Series. Financial assistance is provided in part by the Arts and Cultural Heritage Fund made possible by the voters of Minnesota through a grant from the Minnesota State Arts Board, thanks to a legislative appropriation from the arts and cultural heritage fund.
"The Department of Music & Entertainment Industries is pleased to host this year's Caravan at the University," said Dale Haefner, director of the department's Performance Series. "Area musicians have a chance to network with people in the industry and grow their network base. Area community members have the opportunity to experience and listen to Minnesota artists representing different sounds and backgrounds," Haefner says. "The best part? Events are free and open to everyone!"
Here is a description of Caravan du Nord Events on Friday, Oct. 29:
Workshop 1 - Creating Safer Spaces @ 3 p.m. (Performing Arts Center 101) – Discussion on creating boundaries to foster a sense of respect for everyone's physical and emotional well-being in the Music Industry.
Workshop 2 – Building Your Musical Career@ 4 p.m. (Performing Arts Center 101) – Discussions will center on topics of mental health, preventing burn-out, and best practices that the panel members have experienced in their musical careers.
Music Industry Social Hour @ 5:30 – 6:30 p.m., Johnny B's @ University Square (18+ can attend),1600 Warren St., free hors d'oeuvres and stimulating conversations. Network with fellow musicians and music industry professionals. All skill levels and musical genres are invited.
Concert –7 p.m. (Performing Arts Center 250), Halling Recital Hall, free admission
Music by:
a) Twins of Franklin, Twins of Franklin (Becky Shaheen and Laura Lou) perform original music that's filled with traditional folk elements combined with dance, pop, and even anthem rock.
b) Freaque, Freaque (Gabriel Rodreick) is a multidisciplinary artist writing eerie and transformative folk songs in a similar vein as Tom Waits.
c) Mayda, Mayda's original music has been described as undeniably fresh, swinging between pared-down acoustic struts, full-band funkadelic blasts, and electronic drumbeats and synth flourishes that would make the Purple One proud.