Scammers Don't Take Vacations
Stay Secure This Summer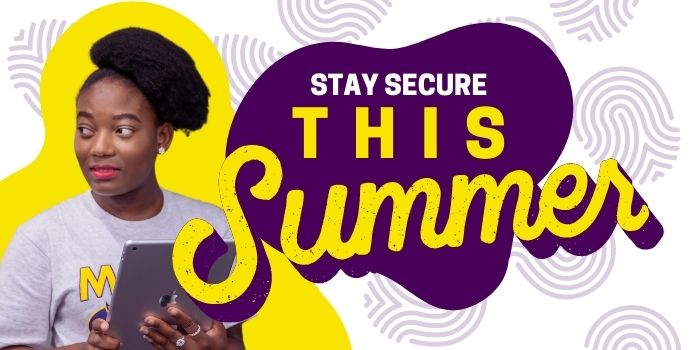 Summer may seem like the time to loosen up, but don't let your guard down. Whether you are going on vacation or staying home, take time to protect yourself, your devices, and sensitive information from cybercriminals. Here are some top tips to #BeCyberAware this summer:
1. Enable Multi-Factor Authentication on All Your Accounts
Cybercriminals are more threatening than ever – but the first step to helping you rest easy is to enable multi-factor (also called two-factor) authentication on all your accounts, like social media, online banking, email accounts, and more.
Multi-factor authentication does the security work for you by blocking account hacks. It automatically creates extra protection on your account that requires verification upon sign-in, so no one can access your account but you.
2. Do Summer Upkeep! Run Updates, Organize Files, and Clean Inboxes
Take time to update all your devices, software, and apps to the latest versions, and make sure to refresh your passwords. These updates often include important security enhancements to protect your data.
Declutter your desktop computer by organizing your folders, backing up important files, and uninstalling software you don't use.
Clean out your MavMAIL and other email accounts over the summer of unneeded junk. If you find spam or phishing emails, report it!
3. #BeCyberAware When Traveling
Don't misplace or leave your devices unattended for others to take. Not only can someone steal your device, but they can also take advantage of the personal information it holds.
Avoid using public, unsecured Wi-Fi to conduct personal business, like logging into your email account or doing mobile banking. Make sure to always use a secure network.
Minimize sharing your location while traveling, especially on social media. Sharing your location can create a security threat and signals to criminals that your home is left unattended.
4. Outsmart Scam Calls and Texts
Don't fall for phishing calls or texts – they tend to have a "trustworthy" story before tricking you into clicking a malicious link or requesting sensitive information. Delete the message or block the call instead.
Don't share your personal information over the phone, especially if it is an unrecognized number falsely claiming to be a company you may trust.
Some phones and carrier companies offer scam protection by automatically detecting potential scam calls for you. Check your phone's settings or your account to see what options are available.
To get more news, updates, and tips from IT Solutions, find us on Facebook and follow us on Twitter.