Getting Started: Student Tech Guide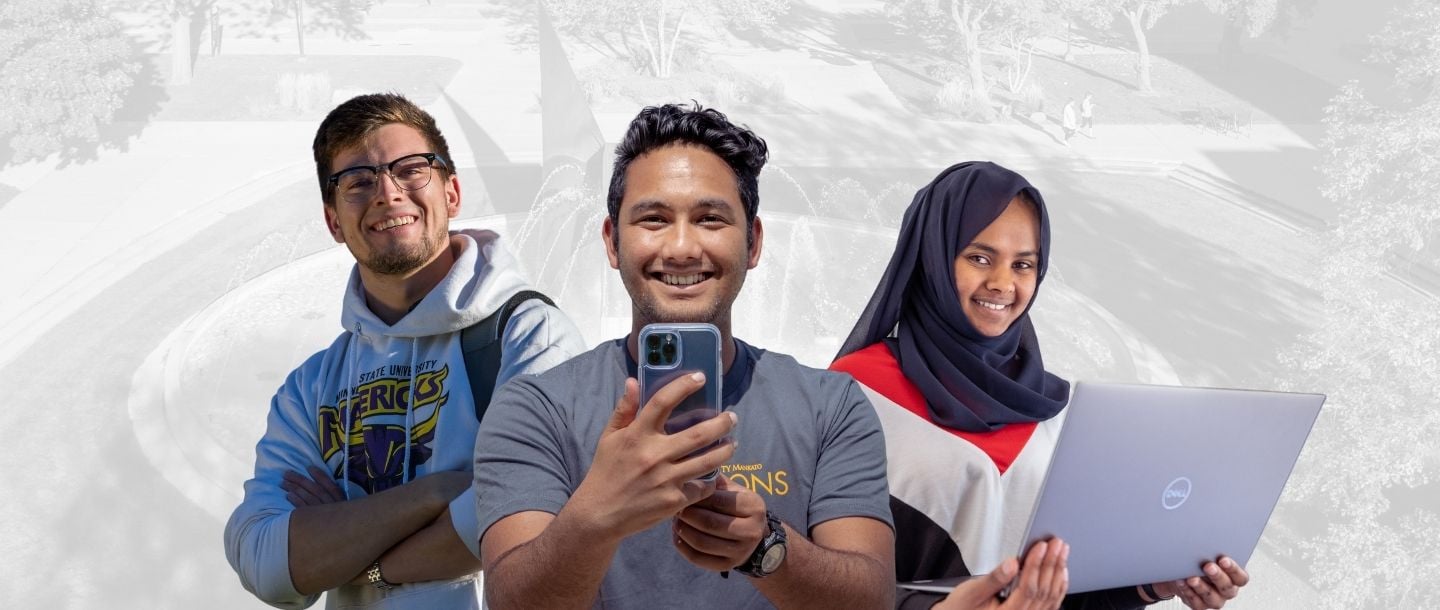 Welcome, new Mavericks – get started with tech across campus! IT Solutions is here for you every step of the way.

---
Get started
Your StarID is your login for online services at Minnesota State Mankato such as E-services, MavMAIL, wireless Internet, D2L Brightspace, and more. Make sure you remember it and keep your password safe!
Eduroam is the fast and secure campus-wide network. Students in the residence communities use MyResNet. For guests, MavGUEST is available in certain locations.
This is your University email! Check MavMAIL often for important information on classes, financial aid, direct deposits, and more. Access MavMAIL online in Microsoft Office 365 or by downloading Outlook on any device.
Access class content, materials, and more, whether taking a course on campus or online. Need help? Check the Quick Guide or get support.
Print at 50+ printer locations throughout campus and residence halls. Students get $20 of complementary printing each semester pre-loaded!
---
top free Apps and software
Get the most out of your campus experience! Create your profile, connect with friends, track buses, view your D2L courses, get campus maps, and more.
Available to you at no additional charge! Apps include Word, Excel, Outlook, OneDrive, PowerPoint and more. Download and use on up to five devices, online and app-based software included.
Attend video meetings online with your University account!
Get specialty STEM software on your own device, like SPSS, Maple, Mathematica, and more.
Labs across campus feature specialized software tailored to your program's needs. The IT Solutions Center in Wissink Hall offers computers with software like MATLAB and Simulink, Adobe, and more.
Learn new skills! Browse thousands of video tutorials taught by industry experts in fields like business, graphic design, music production, and much more.
Save and access all your files in the cloud as a part of Office 365. Save yourself stress in the chance of a lost or broken device and access and share your documents wherever, whenver.
Get real-time route updates and see exactly where your bus is at, or use Mav Life. Students ride free with MavCARD!
Survey software to collect data – use for reserach, school projects, and more!
Add interactive surveys to your presentations and meetings.
---
more resources
Bring your creations to life with our 3D printers at the IT Solutions Center in Wissink Hall 121.
Get your tech set up in your residence community! Wi-Fi, cable, streaming, ResTech Services, and more.
Receive text and email notifications in the event of campus-related emergencies, including campus weather announcements such as delayed class starts or campus-wide closures.
#BeCyberAware! Learn basic cybersecurity tips to help you keep your data and devices safe from cybercriminals. Listen to the CyberAware Podcast for cybersecurity conversations from student hosts and special guests.
Get your gear here! Laptops, tablets, and accessories, online or in-store. Get the best tech advice from campus insiders, plus a convenient on-campus location.