Flipgrid
What is Flipgrid?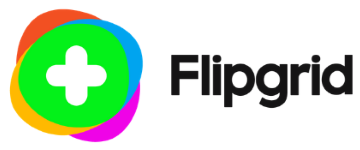 Flipgrid is a video discussion tool that encourages engagement and community in your class. Instructors can create discussion topics that include video and text material. Students can respond using text or video. Fun filters add personality into the videos. Students can see and hear one another and respond to discussions asynchronously.
Flipgrid Offers:
Video discussions
Text-based options
Fun and engaging video filters
Pre-built modules from museums, other educators, and more
Metadata to help you assess participation
How Could I Use Flipgrid?
Flipgrid adds a visual asynchronous component to online classes:
Icebreakers: Start your class with an introductory icebreaker discussion. Use one or more icebreaker activities to encourage a sense of community in the course from the beginning.
Reflections: Traditionally students complete written reflections but Flipgrid could be used to collect thoughts, feedback, and ideas for a number of classroom activities - from final class reflections to thoughts on an invited speaker.
Flipgrid on the go: Flipgrid offers mobile apps for teachers and students making it easier to record and post videos for a variety of learning activities.
Helpful Links
Find Flipgrid
Navigate to https://info.flipgrid.com/ on any web browser.
Click on the Educator Login button in the top right corner.
Click the Microsoft Login button.
Enter your StarID@minnstate.edu (faculty/staff).
Learn more
Browse our resources for engaging learners for ideas to use Flipgrid in your classes:
This document outlines 10 strategies for engaging learners with online collaboration.
This document outlines 10 strategies for engaging learners in your blended and online courses.
This document outlines 10 teaching strategies that may be used to facilitate Active Learning.