In Memoriam: Ambrose Kodet
Concertina Hall-Of-Famer was a KMSU mainstay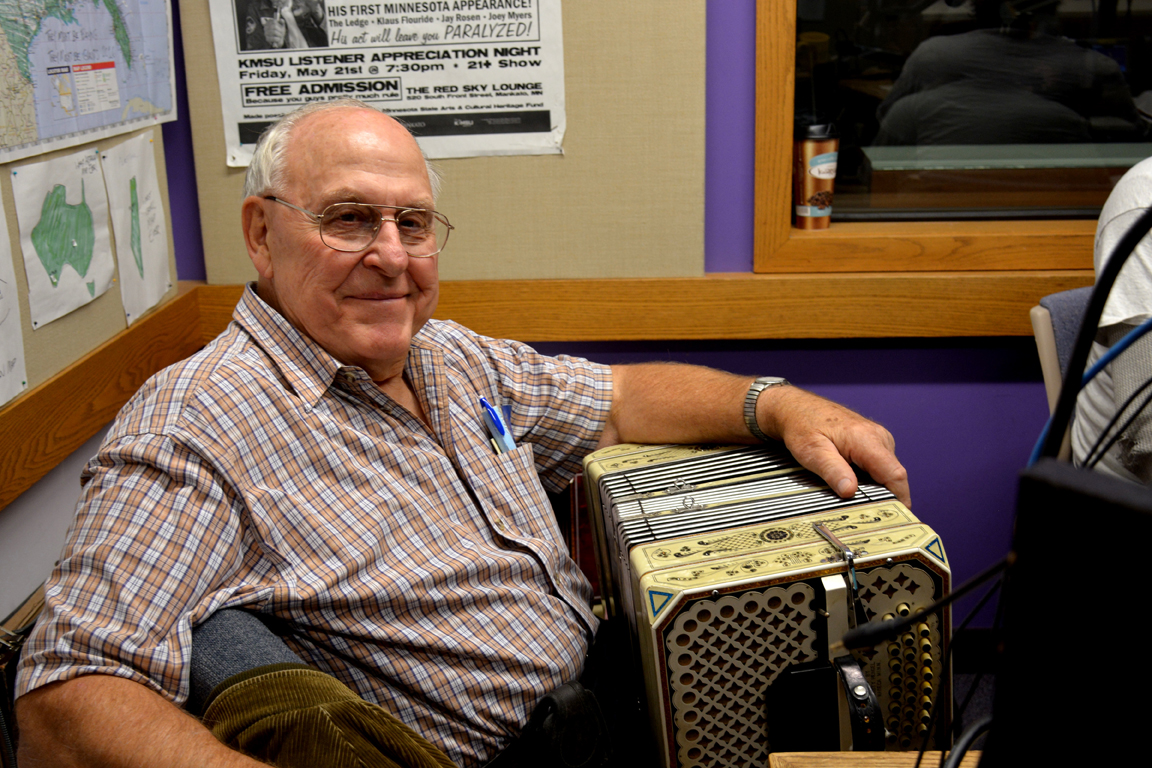 World Concertina Hall-of-Fame member Ambrose Kodet passed away on Friday, May 20th. He was an essential part of KMSU's annual Polka 'Til You Puke pledge drive shows for nearly two decades, providing live concertina performances during the broadcasts. He will be missed.
Ambrose Kodet began learning the concertina at the age of four. His family didn't have a phone or radio to occupy the time, so his father taught the instrument to him and his siblings. If you ever had the honor to shake his hand, you'd quickly realize that he had the grip of a person that had been playing the concertina for over eight decades.
As a professional concertina player, Ambrose played with bands like the Ivan Kahle Band, The Little Fishermen, and Concertina Capers (with his brother Gerald Kodet). When he wasn't gigging around the region, he also served as a member of the Computer Information Science faculty at Mankato State University. In addition, Ambrose was an engraver and decorator for concertina manufacturers, including instruments produced by the legendary Christy Hengel. His intricate work was always on display during his appearances on KMSU.
Ambrose was inducted into the World Concertina Congress Hall of Fame in 2004, and soon after he joined Shuffle Function for their first Polka 'Til You Puke pledge drive show, participating in every one of them through 2021. In addition to providing live concertina to the broadcasts, Ambrose brought humor and stories from his life in Polka, as well as an enyclopedic knowledge of regional Polka acts. He could identify bands within a few notes of a song, and then provide a short history of the group. He would also be the first to tell you that "Out Behind The Barn" was pretty racy for a Polka.
Though he wasn't an official part of the KMSU staff, Ambrose Kodet was absolutely a beloved member of the KMSU family, and his absence will be profound every Fall when the Polka tunes play on 89.7 the Maverick.
Visitation will be held on Thursday, May 26th 2022 at 10:00 AM at the Holy Rosary Catholic Church (525 Grant Ave, North Mankato, MN 56003). A funeral mass will be held on Thursday, May 26th 2022 at 11:00 AM at the same location.
In lieu of flowers, memorials may be directed to the Holy Rosary Catholic Church Building Fund.