Hot Jazz For Decent People Returns!
Popular Jazz Series returns to Saint Peter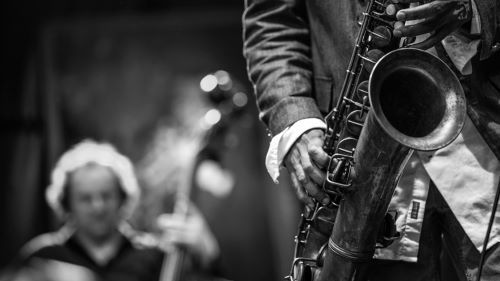 The Arts Center of Saint Peter's Hot Jazz for Decent People series returns to St. Peter's Minnesota Square Park pavilion on Friday, July 8, the first of four shows in a free series featuring regional jazz acts and featuring a free book giveaway courtesy the St. Peter Public Library.
At all four shows — July 8, July 22, August 5, and August 19 — music begins at 7:00 p.m. and concludes by 8:30 p.m. Admission is free, with donations to the Arts Center encouraged. Guests are encouraged to bring their own seating and refreshments. Coolers are permitted; no glass bottles. The St. Peter Public Library will host a free book giveaway at all shows.
Now in its ninth year, Hot Jazz for Decent People: Late-Night Sounds at Early Evening Hours is hosted by KMSU Radio's Gary Campbell, who delivers brief introductory remarks about the evening's repertoire. Dates and acts are as follows:
Friday, July 8, 7:00-8:30 p.m., The EZ Jazz Trio
Together with Evan Bierer (saxophone), and Ryan Rader (percussion), band leader Eric Zimmerman delivers a high-energy evening of originals and standards (
ezjazztrio.com
). The performance is dedicated to the memory of Bernard "Mike" Bidelman (1938-2022), a longtime St. Peter educator and a lover of fine arts. As a young man during the 1950s, Bidelman's passion for jazz led him to travel by train from Elkhart, Indiana, to experience Chicago jazz clubs. His family has chosen the joyful occasion of a jazz show to honor his memory and give back to the St. Peter community where he lived and taught for more than 30 years.
Friday, July 22, 7:00–8:30 p.m., Liz Draper et al
Liz Draper (upright bass), Tasha Baron (piano) and Chaz Draper (drums) is a trio focused on composition and improvisation with roots in jazz, dub, hip hop, and contemporary classical music.
Friday, August 5, 7:00-8:30 p.m., Steely Ann
Ann Fee (vocals), Chaz Draper (drums), Masa Ishikawa (keyboard), Craig Matarrese (bass), Johnathan Moeller (guitar) perform the music of Steely Dan with a female lead and jazz-heavy interpretations of legendary instrumental solos.
Friday, August 19, 7:00-8:30 p.m., Masa Ishikawa Trio
Soulful originals and thoughtful arrangements of familiar standards by pianist Masa Ishikawa and esteemed colleagues (
masaishikawamusic.com
).
In the case of severe weather, shows will be canceled. Cancellation announcements will be posted via Facebook by the Arts Center and City of Saint Peter, and at
artscentersp.org.
The series is made possible by support from the State Arts and Cultural Heritage Fund, as appropriated by the Minnesota State Legislature to KMSU Radio.
IMAGE: International Jazz Festival of Punta del Este by Jimmy Baikovicius