The Spring Pledge Drive Swag Is Here!
You can get cool things when you support kmsu!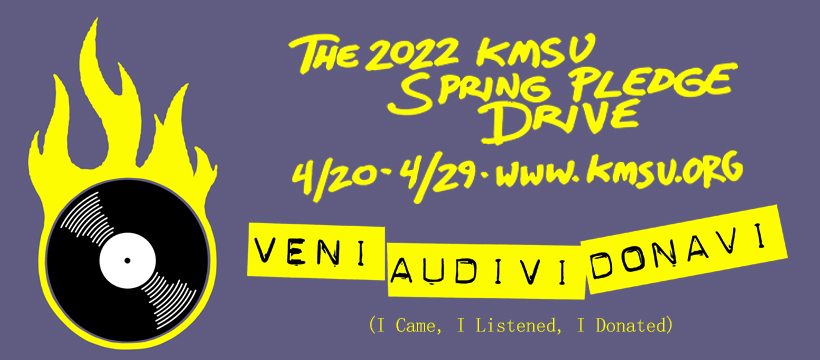 THE SPRING PLEDGE DRIVE STARTS ON WEDNESDAY, APRIL 20th!
The Spring 2022 Pledge Drive begins on April 20th! This is one of two times during the year where we come to you and ask for your generous support to help keep KMSU on the air. We're hoping you'll take a moment to help us hit our $35,000 goal for the drive.
Please take a moment and consider the place KMSU holds in your life. If you listen to the station regularly, if you've found shows that you know and love, then you're probably a true believer, and you realize that what KMSU offers to you and the community can't be found anywhere else. This kind of programming can only continue with the generous support of our listeners, and we hope you'll give us a call or pledge online to help us out. Any amount makes a huge difference, but we have some great swag available at different pledge levels to hopefully nudge you towards making a contribution. And now...
THE SWAG!
$25 - "I CAME, I LISTENED, I DONATED" T-SHIRT!
A $25 pledge can get you the "I Came, I Listened, I Donated" t-shirt, featuring a flaming record and the phrase "Veni, Audivi, Donavi", which is Latin for "I Came, I Listened, I Donated". You can look cool AND booksmart with this new shirt! Available in S, M, L, XL, and XXL!
$25 - THAT'S RIGHT BUDDY VOLUME 3 LOCAL MUSIC CD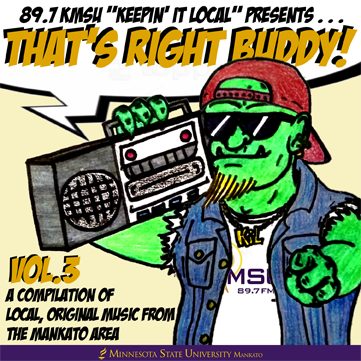 Ben & Chris from Keepin' It Local have put together collection of music from excellent local bands! Yours with a $25 pledge when you support KMSU during our Spring Pledge Drive.
$30 - CLASSIC KMSU MUG!
The gold KMSU mug is LITERALLY the gold standard of drinking liquid delivery systems. It looks sharp, plus it's the perfect size for holding enough of whatever you're pouring down your throat. Every home needs one. In fact, every home needs a set! Yours for a $30 pledge.
P.S.: They Might Be Giants has been known to use it!
A $50 pledge can get you the classic KMSU mug, PLUS the brand new "I Came, I Listened, I Donated" shirt, and you save FIVE BUCKS! It's the best value for folks that believe in community radio and want super fun pledge drive swag!
$100 - JAMES BROWN COLLECTED!
KMSU always tries to find amazing music premiums to give our listeners as thank you gifts, and the on for the 2022 Spring Pledge Drive absolutely STOMPS. The James Brown Collected set gathers together the most essential tracks from The Godfather of Soul's 50+ year career. You get hits, deep tracks, and everything in between with this one. It's sure to be the soundtrack of the Summer, if not the rest of your life, and it's yours for a $100 pledge when you support 89.7 the Maverick.
$100 - KMSU DAY SPONSORSHIP

You can sponsor an entire day of radio on KMSU with this premium. Commemorate a birthday or anniversary, surprise the music geek in your life, treat the new graduate, or celebrate the music of your favorite musician! These are just a few ways that you can use a KMSU Day Sponsorship. A personalized message will also be read throughout the day so the whole world knows that you are a super cool person that supports independent radio!
$500 - YOUR OWN PERSONAL SOUNDCLASH!
For a $500 pledge you can have KMSU hosts DJ your own personal THREE HOUR
Soundclash! Need a soundtrack for your party? Like to garden while loud music plays?
Concerned that your pyramid scheme gathering has a playlist that's just...mediocre?
WE HAVE YOUR BACK! This is only available in the Mankato/St Peter area, due to
logistics.
There is only one Soundclash available, so don't wait to pledge!
Absolutely no weddings!

The DJs pick the music!

No, you cannot look at their records!
The DJs Soundclashing your event are subject to availability. They all will bring the heat.
There's the swag! Drop us a line with questions, but most of all drop us a line with your support! Remember, the 2022 Spring Pledge Drive starts THIS WEDNESDAY at six a.m.! Give early and give often!
CALL 389-5678 OR 1-800-456-7810 AND MAKE YOUR PLEDGE, OR
MAKE YOUR DONATION ONLINE!
Thanks for being the best listeners in the world!
1-800-456-7810 to pledge!