They Might Be Playing They Might Be Giants 2023
Friday, November 17, 2023
6:00 AM - 6:00 PM
KMSU Radio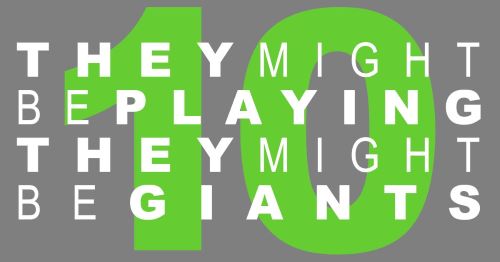 The tenth annual They Might Be Playing They Might Be Giants day takes place on Friday, November 17th, from six a.m. to six p.m. on KMSU Radio! Ten years of twelve hours of They Might Be Giants! Listen at 89.7fm/91.3fm/kmsu.org, or livestream it with the KMSU app, available for Apple and Android devices.
What started as a simple pledge drive "Day Sponsorship" by a couple of fans of TMBG & KMSU - in which the station's DJs were encouraged to play some They Might Be Giants if they felt like it - has grown from a little southern Minnesota thing into a (literally) global phenomenon. Credit for this goes in no small part to the hosts of the KMSU show Shuffle Function: Shyboy Tim & Shelley. These two have not only poured their heart and soul into this "mom & pop" station for nearly two decades, but they're also big-time TMBG fans.
Tremendous credit also goes to They Might Be Giants themselves, who became personally involved in the event starting in Year 2 with not one, not two, but three phone calls to the station by John Flansburgh, who had heard about KMSU's event via the interwebs. InYear 3, Flans not only called us back (more than once) but brought John Linnell with him to answer fan questions live on the air! In Year 4 (2017), we managed to crank out 177 songs over 12 full hours on the air, including calls from both Flans and Linnell again, received requests from fans across all 50 states, and 20 countries from all 7 continents, AND the day ended with a great TMBG tribute show in Mankato! And Year 5 (2018) was yet another mind-bending, twelve-hour TMBG blowout featuring glorious discussions with not just Flans… not just Linnell… but also the band's incredible bassist, Danny Weinkauf!
Did we mention fans? Most of the credit for the overwhelming success of this event goes to TMBG's fans themselves. THEY. ARE. EVERYWHERE. and they know a great band when they hear it. We've received more requests every year, and we expect that to continue in 2022!
Visit tmbg.love for all things #TMBPTMBG. The first nine years were amazing, and we can't wait to do it all again in 2023!