Bonfire & Fireworks 2023
Friday, October 6, 2023
7:00 PM - 8:30 PM
Blakeslee Stadium
FOR IMMEDIATE RELEASE Contact: Dan Benson Thursday, Oct. 5, 2023 (507) 389-6838; daniel.benson@mnsu.edu
Minnesota State Mankato Cancels Friday's Bonfire, Fireworks Because of
Forecasted High Winds
Homecoming concert will be inside Friday at Myers Field House; tickets required
Mankato, Minn. – Minnesota State University, Mankato has cancelled Friday's bonfire and fireworks because of forecasted high winds.

Friday's 9 p.m. Homecoming concert, featuring a performance by rapper Kid Ink, will proceed inside Myers Field House. Doors for the concert open at 8:15 p.m. Tickets are required for the concert. Tickets may be purchased online at www.mnsuevents.com.

Please note these important items regarding the concert:
Closed-toed shoes are required to attend this event.
Minnesota State Mankato has a clear bag policy. To gain entry to the venue, you must have a clear bag or a bag no bigger than a clutch. A limited number of clear bags will be available at the door.
Pepper spray is not permitted inside the venue.
Food and drink will not be allowed at this event.
Parking will begin at 4 p.m. in parking lot 20.

For more information on the weeklong schedule of Homecoming week events, contact Bill Tourville, assistant director of campus programs, by email at william.tourville@msnu.edu or by phone at 507-380-6076.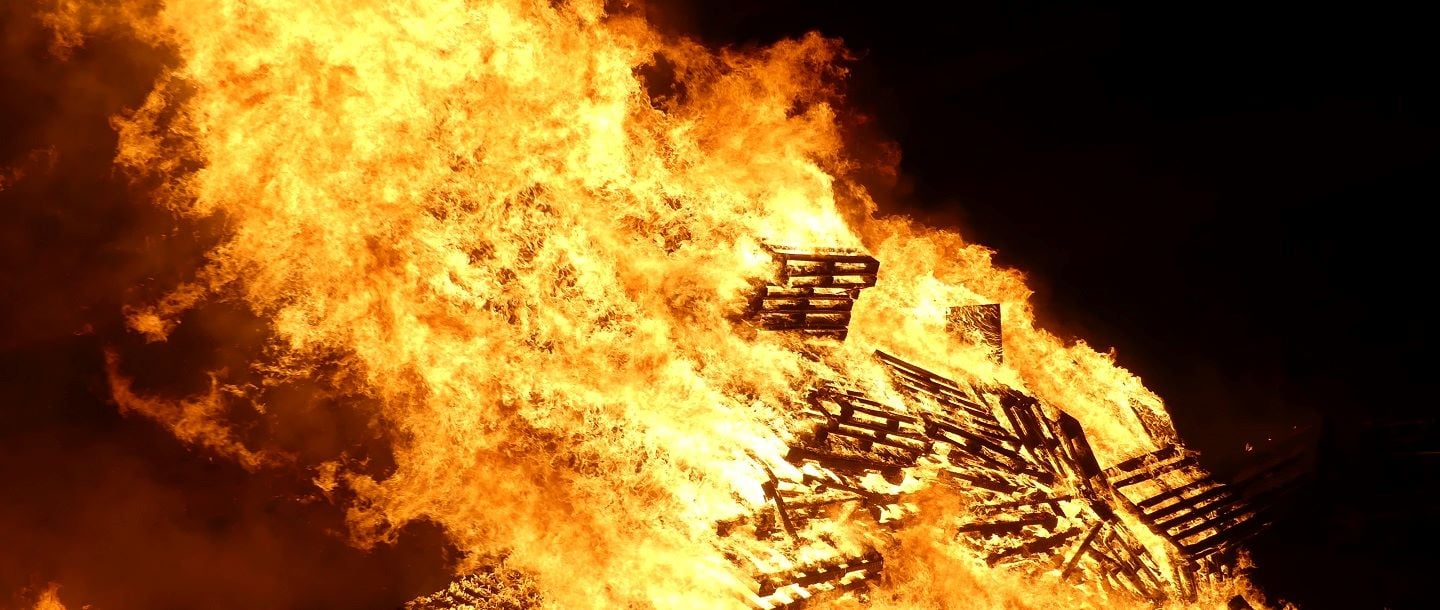 2023 will feature the following:
Doors:7:00pm
Ceremony: 7:30pm
Bonfire: 8:00pm
Fireworks: 8:20pm
Close: 8:30pm
When lit, the bonfire stands 25 feet tall and is made up of 250+ pallets of wood. This intense project was initiated in 2014 with the help of a student-ran organization of Construction Management students and the leadership of Homecoming co-chair, David Scheiler. Each year different representatives from the university are privileged enough to light the bonfire. Homecoming Royalty Dustin Slaughter stated that, "it was truly a unique and incredible experience to light the bonfire. I feel honored to have been given the opportunity to do so, and I'll never forget it; especially the moment when the stack of pallets fell over on fire!" Prior to the bonfire, the Homecoming committee plan a variety activities as patrons arrive. Activities in the past have included inflatables, a laser light show, DJ battle with the Maverick machine, and photo booths. Each year a variety of sponsors have provided food samples and other activities. The bonfire takes place in the same location each year behind Blakeslee Stadium from 7:30 p.m. to 8:30 p.m. The evening is capped off with a 15 minute fireworks show featuring more than 2400 shells behind the Maverick Midway. This event will be free to both students and public. Parking will be available in Lot 20 for individuals interested in attending this event. Some guidelines to follow each year including the following. There will be no outside food or beverage. Minnesota State University, Mankato is an alcohol, other drugs, and tobacco-free campus. Use of substances will result in removal from this event. To ensure safety and security, the Mankato Fire Department will available for the entire duration of this event.
"This event didn't get to happen last year, so I feel especially excited to make sure it does this time around!" - Henry Bowring-McDonough, Mavericks Tradions Chair, Student Events Team
All Homecoming events are planned by a student-led organization known as the Student Events Team. Student Events Team, is a student-led organization that produces fun, interactive, educational events where students make lifelong memories and celebrate their Maverick pride.
If students are interested in joining the team or helping to plan or volunteer during the week of Homecoming, Student Events Team meets every Tuesday at 4pm, in CSU 245. If you want to help plan Homecoming specifically, committee meetings will be held every Thursday at 4pm in CSU 173.