Minnesota State Night at the Moondogs
Thursday, June 15, 2023
6:35 PM - 10:00 PM
ISG Field
Minnesota State Mankato to host Student Night at the Mankato Moondogs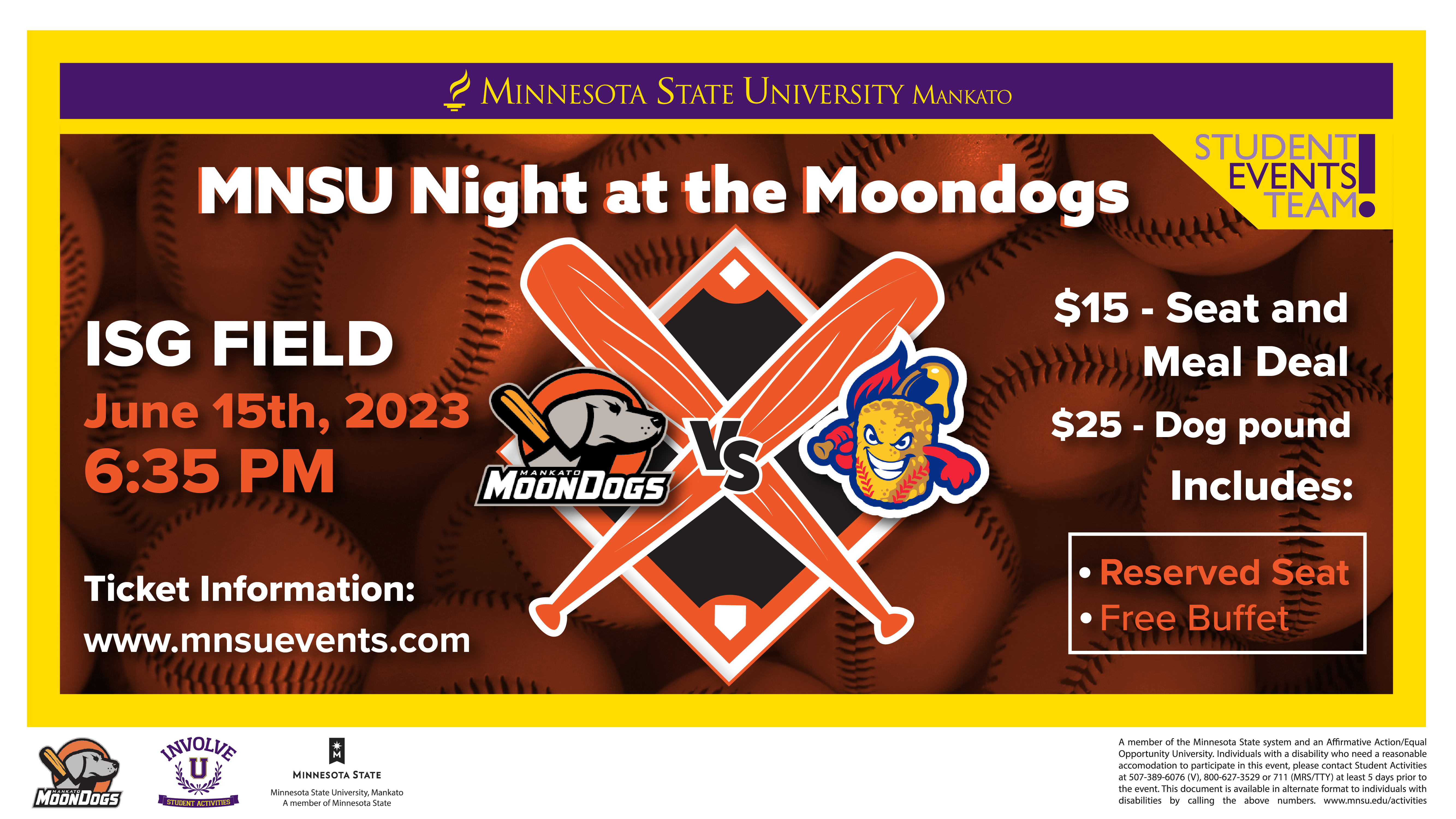 Reserved Seat & Buffet: $15/person
Dog Pound: $25/Adult, $15/child
MANKATO, Minn. – The Student Activities, and the Centennial Student Union is hosting a night at the Mankato Moondogs on June 15, at 6:35 p.m. Minnesota State Mankato Students and Staff can purchase a discounted ticket package for $15.
Admission is $15 with a valid MAVCard. Students, Faculty, Alumni, and Staff are encouraged to purchase their tickets in advance. The admission includes a reserved seat ticket, and a free concession buffet through 4th inning. The buffet will include hotdogs, hamburgers, chips, and other select items. Thanks to the Mankato Moondogs this event will be offered at a reduced rate. The package value is over $25.00.
New to 2023, MNSU Staff, Alumni, and Students can purchase a Dog Pound ticket for a discount. Those included an all you can eat buffet, access to the third base side deck, free soda, and three alcoholic drinks. Adults can purchase dog pound tickets for $25 and children under 12 for $15.
"I love Baseball in the summer. We are excited to partner with the Moondogs to let Mavericks experience summer baseball in Mankato," said John Bulcock, Assistant Director of Student Activities.
Tickets are limited and on a first come first serve basis. Tickets are available for purchase online at mnsuevents.com or in-person at the Student Activities office. The Student Activities office is located in the Centennial Student Union in room 173. Limited tickets may be available day of for purchase at the Moondogs ticket office.
The Mankato MoonDogs have been the winningest team in the Northwoods League over the past 10 years. Since 2011, they have reached the Summer Collegiate World Series three times, and will look to capture the city's first championship in 2023.
Field Manager Danny Kneeland enters his second season at the helm and will look to build on the team's recent success of winning for 40+ games for the ninth time in franchise history. The Mankato MoonDogs are coming off of a record breaking 2022 Season where the team set a single season attendance record, made the Final Four in Ballpark Digest's best summer collegiate ballpark in America, and had the fifth player in MoonDog's history named Northwoods League MVP.
For more information on this event contact Student Activities, William Tourville, by email at William.tourville@mnsu.edu or by phone at 507-389-6076.