Minnesota State Mankato Designates April as 'Research Month'
Recipient of Annual Douglas Moore Research Lectureship Announced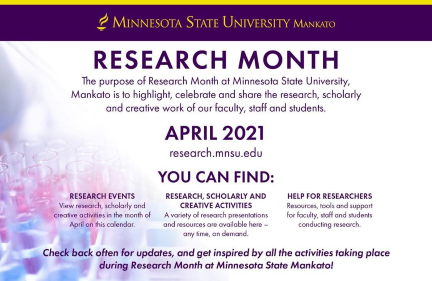 Mankato, Minn. – Minnesota State University, Mankato President Davenport announced that the month of April has been designated as the University's first-ever Research Month to showcase the multitude of research and scholarly activity that occurs at Minnesota State Mankato.
"The purpose of Research Month is to highlight, celebrate and share research and creative work of our faculty, staff and students," said Davenport in a video message.
The public is invited to access many events virtually for free either live or on-demand through an online calendar, and explore a Research Month Web page with links to research, creative and scholarly activities, resources, tools and support the University provides for those conducting research.
Faculty Research Lectureship Announcement
Davenport also announced that the recipient of the 2022 Douglas R. Moore Faculty Research Lectureship is Phillip H. Larson, associate professor, director of earth science programs and graduate coordinator at Minnesota State Mankato. Larson's research is titled "How Rivers are Born and Evolve: A Paradigm Shift in Earth Science."
Davenport said Larson's research is especially relevant to the University, regional community and beyond because of the University's location in the Minnesota River Valley. Larson will deliver a public lecture in 2022.
The 2021 Douglas R. Moore Faculty Research Lecture was scheduled for March 29 but has been postponed until fall 2021 because of the pandemic. A date will be announced in the coming months for a presentation by faculty members Scott Granberg-Rademacker and Kevin Parsneau titled "Let's Get Ready to Tweet! An Analysis of Twitter Use by 2018 Senate Candidates."
The Douglas R. Moore Faculty Research Lectureship is the most prestigious research award conferred by Minnesota State University, Mankato. Now in its 47th year, the annual lecture is named for President Douglas R. Moore, who served as University president from 1974-1978. The purpose of the Douglas R. Moore Faculty Research Lectureship is to celebrate the joy and excitement of scholarly creativity.
2021 Distinguished Faculty Scholar Recipients
Teri Wallace, interim associate vice president for research and dean of extended campus, Daniel Houlihan, director of the Center for Excellence in Scholarship and Research, and the members of the Faculty Research Committee recently announced the 2021 Distinguished Faculty Scholar award recipients: Lori Ann Lahlum (Department of History), Hans-Peter de Ruiter (School of Nursing), and Christophe Veltsos (Department of Computer and Information Science).
Lahlum has published two co-edited books, several journal articles, book chapters, and short academic pieces. With more than 30 presentations and eight invited addresses, Lahlum has established a national reputation as well as a strong presence in the community.
de Ruiter has published 20 articles in top-tier journals along with multiple editorials, chapters and book reviews. Along with a substantial grant-writing portfolio, he also has presented his work 45 times nationally and internationally.
Veltsos has established a national reputation and influence having written three books, numerous articles, and more than 100 short blog articles for a major cybersecurity outlet. He was recently given the Academic Leader Award by the Cyber Security Summit.
(NOTE TO EDITORS: Media with questions about Research Month may contact Teri Wallace, the University's interim associate vice president for research and dean of extended campus, by phone at 507-389-5381 or by email at teresa.wallace@mnsu.edu.)
Minnesota State Mankato, a comprehensive university with 14,604 students, is part of the Minnesota State system, which includes 30 colleges and seven universities.