Minnesota State Mankato's 2021 Career & Internship Expo for Students, Alums Returns to In-Person Format
Oct. 13-14 event aims to help students, alums in career planning, employment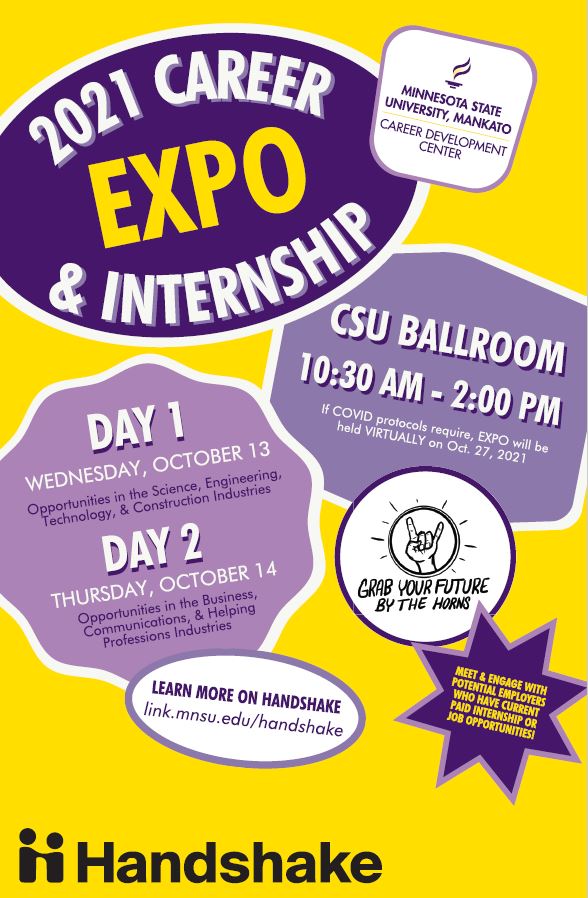 Mankato, Minn. – Minnesota State University, Mankato's Career Development Center is holding its annual Career & Internship Expo for students and alumni in an "in-person format" once again this year, after the fall 2020 event was held virtually because of the global pandemic.
The 2021 Career & Internship Expo will be held from 10:30 a.m. to 2 p.m. on both Wednesday and Thursday, Oct. 13-14 in the University's Centennial Student Union Ballroom. The event is intended to assist Minnesota State Mankato students and alums in career planning and to learn about employment and internship opportunities with area employers.
This year's in-person event will be slightly smaller than in previous years to make it as safe as possible for all attendees, said Pam Weller, director of the University's Career Development Center.
"The Career Development Center has continued working to assist students and alumni with the unique challenges of exploring careers and searching for jobs and internships all throughout the pandemic," said Weller. "We're pleased to hold an in-person Career and Internship Expo again this year, and although the event is slightly scaled back from previous years, it will offer our students the chance to meet potential employers and learn about internships within our area and region. We look forward to returning to an expanded Career and Internship Expo in the future."
Modifications made to this year's event include:
Masks are required for all attendees.
Exhibit tables will be set up with additional spacing to discourage crowding and encourage social distancing.
Handshakes are being discouraged with alternative greetings such as head nods and waves being used instead.
There will not be a professional photographer or formalized tour groups this year to limit congestion in the CSU lobby area. 
Employers will be served boxed lunches rather than having a lunch buffet with faculty and staff as in years past.
Wednesday, Oct. 13 will feature opportunities in the science, engineering, technology and construction industries. Thursday, Oct. 14 will feature opportunities in the business, communications and helping professions industries.
Media interested in covering the event should request assistance at the event from Pam Weller, director of Minnesota State Mankato's Career Development Center, or Katie Hodgden, assistant director.
Additional information about the Career Development Center is available by calling 507-389-6061 or by sending an email to cdc@mnsu.edu. Additional event details, including a list of attending employers, can be found at https://link.mnsu.edu/expo2021.
The Career & Internship Expo is the premier fall event held by the Career Development Center at Minnesota State Mankato. The primary objective of the Career Development Center is to provide services and resources to assist students and graduates with career planning and the search for employment.
Minnesota State Mankato, a comprehensive university with 14,546 students, is part of the Minnesota State system, which includes 30 colleges and seven universities.