Minnesota State Mankato Names David Hood Provost and Senior Vice President for Academic Affairs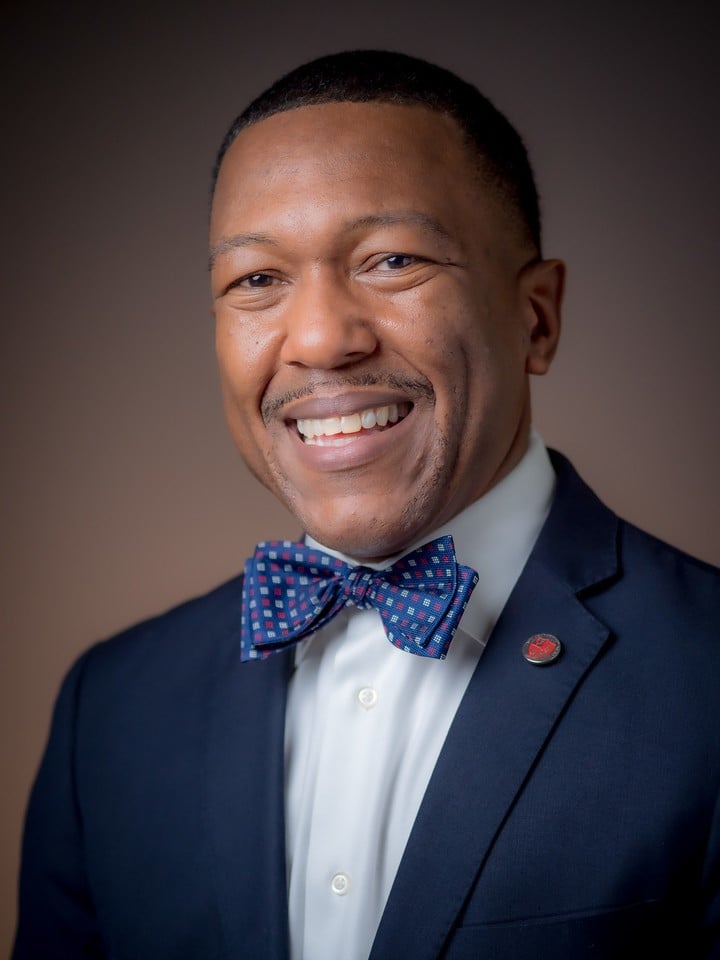 Mankato, Minn. – Minnesota State University, Mankato President Edward Inch announced today that David Hood (pictured) has been named the new provost and senior vice president of academic affairs at Minnesota State Mankato, effective July 1.
Hood is currently the associate provost for undergraduate education and founding dean, University College at Montclair State University, a position he has held since August 2018.
Inch said Hood's diverse leadership experience in a 14-year administrative career in higher education and ability to solve problems through data-driven solutions were among his top attributes.
"I appreciate the work of the search committee and search firm in bringing an excellent group of four finalists to campus," said Inch. "Dr. Hood is a strategic, innovative, collaborative and transformational leader in higher education. I am thrilled he is joining our team and I know that his background and expertise will help the University advance our goals around student success, Equity 2030 and our overall strategic plan and objectives."
The provost and senior vice president of academic affairs at Minnesota State Mankato is the second ranking administrator position at the University. The provost designation became part of the University administration in 2007. Since then, Hood will be the fifth person to serve in the position and first African American.
During his career, Hood has focused on student learning and key performance indicators centered on student success outcomes.
Hood will come to Minnesota State Mankato after leading the successful opening and launch of University College at Montclair State University, a public university in Montclair, New Jersey, with 21,005 total students (16,374 undergraduate, 4,631 graduate). In 2017, Montclair State was designated as a public research university by the state of New Jersey. In 2019, Montclair State was recognized as a Doctoral University – High Research Activity by the Carnegie Classification of Institutions of Higher Education.
At Montclair State, Hood also oversaw the development of Montclair State's Advising 2025 Strategic Plan, and was responsible for the creation and implementation of policies and initiatives that have contributed to undergraduate students' ability to successfully navigate University study and decrease their time to degree attainment.
Prior to his current position at Montclair State, Hood served from 2010-2018 at North Carolina Central University, where he provided leadership for five years as associate dean and nearly three years as dean of University College. During his time as dean, he led efforts to increase the campus first-time, first-year retention rate from 76.6% to 82.4%, and the campus five-year graduation rate from 37% to 53%.
Additionally, Hood has held administrative and/or faculty appointments at Central Michigan University (2011-2015), Virginia Union University (2009-2010), Elizabeth City State University (2007-2009), Tennessee State University (2007) and J.F. Drake Technical College (2001-2002).
Hood earned a doctorate of education in administration and supervision, concentration in higher education, from Tennessee State University in Nashville, Tennessee. He also earned an education specialist and master's degree in administration and supervision from Tennessee State University and a bachelor's degree in secondary education, biology and history from Alabama Agricultural and Mechanical University in Normal, Alabama.
The provost and senior vice president of academic affairs at Minnesota State Mankato provides vision and direction to strengthen the University's academics while advancing the strategic goals of the University. The provost serves as the senior academic officer of the University, reports directly to the president, is a member of the president's cabinet and represents the University in the president's absence.
The previous four provosts at Minnesota State Mankato include Scott R. Olson (2007-2012), Marilyn J. Wells (2013-2020), Matt Cecil (interim, January 2020-June 2021) and Brian Martensen (interim, July 2021-current).
Minnesota State Mankato, a comprehensive university with 14,546 students, is part of the Minnesota State system, which includes 30 colleges and seven universities.