New Digital Video Wall Installed in Clinical Sciences Building
Technology Donated by Mayo Clinic Health System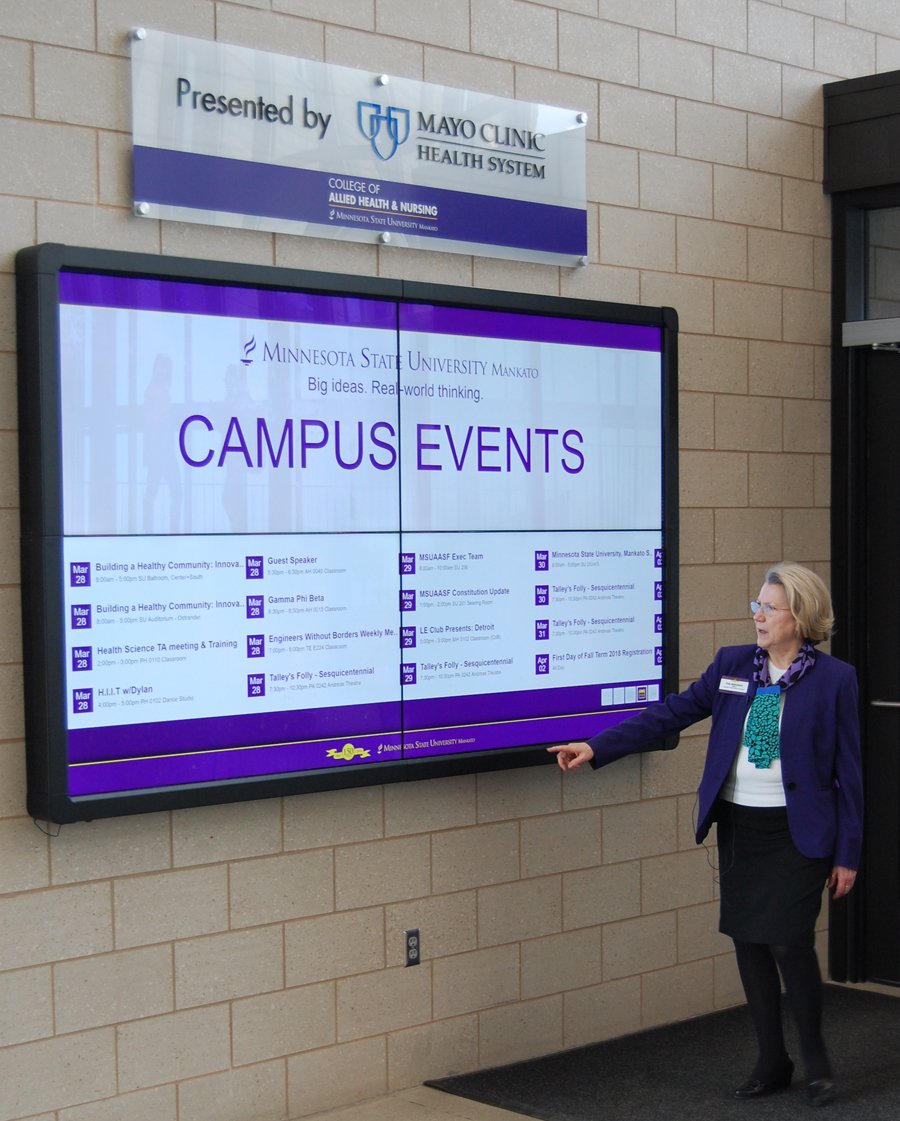 KEYC TV coverage
Mankato, Minn. – A new interactive digital video wall donated by Mayo Clinic Health System has been installed in the main entry way of Minnesota State University, Mankato's Clinical Sciences Building.
Kris Retherford (pictured in photo), dean of Minnesota State Mankato's College of Allied Health & Nursing, and Laura Bowman from Mayo Clinic Health System demonstrated the new technology to the media during the Wednesday, March 28 Health & Biomedical Sciences Summit, for which Mayo Clinic Health System is the presenting sponsor.
"We are proud to partner with Mayo Clinic Health System to improve the health and wellness of the campus and community," said Retherford. "This digital video wall will help us achieve that goal by streaming health promotion content in a variety of formats. Serving as presenting sponsor of this week's Health & Biomedical Summit further exemplifies Mayo Clinic Health System's commitment to Minnesota State Mankato and our community."
"Mayo Clinic Health System is committed to meeting the needs of patients both in our clinics and within our community," said Dr. James Hebl, M.D., regional vice president. "This interactive tool is just one of the many ways we are supporting students, faculty, staff and visitors by sharing education and research, the latest health news and healthy living tips."
The digital video wall, located in the main entry area of the building, comprises four 55-inch video monitors and features interactive touch screens. Content includes information about services and events offered by Minnesota State Mankato, wellness videos and information provided by Mayo Clinic Health System, wayfinding information and more.
For more information about the digital video wall, contact Retherford at 507-389-6315.
Minnesota State Mankato's College of Allied Nursing includes one school, the School of Nursing, and six academic departments — Dental Hygiene; Family Consumer Science; Health Science; Human Performance; Recreation, Parks and Leisure Services; and Speech, Hearing and Rehabilitation Services.
Mayo Clinic Health System in Mankato is the community practice of Mayo Clinic, bringing the resources and expertise of Mayo Clinic to the community and the region. The community practice is committed to providing expert, whole-person care to everyone who needs healing. As a not-for-profit health care organization, Mayo Clinic constantly seeks new medical knowledge through research and education and applies that knowledge so every patient gets exactly the care they need. Mayo Clinic Health System in Mankato serves the community by providing routine, preventive and specialized care services, close to home.
Minnesota State Mankato, a comprehensive university with 14,712 students, is part of the Minnesota State system, which includes 30 colleges and seven universities.