Doris Wigand Receives 2018 Distinguished Alumni Award
Wigand one of four 2018 alumni award winners recognized at April 20 ceremony.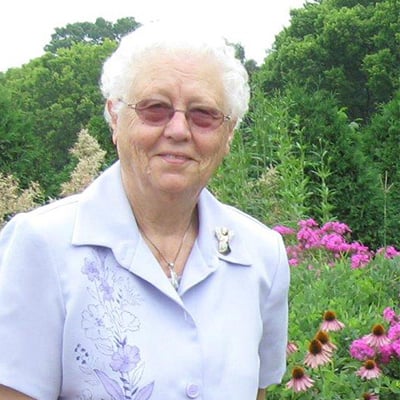 Mankato, Minn. – Doris Wigand (pictured) of Le Sueur, Minn., recently received the 2018 Distinguished Alumni Humanitarian Award from Minnesota State University, Mankato.
Wigand, a retired elementary school teacher, is one of four 2018 alumni award winners. She was honored at an April 20 ceremony hosted by the Minnesota State Mankato Office of Alumni Relations.
Humanitarian Awards go to Minnesota State Mankato graduates whose lives exemplify service to humankind, and who have demonstrated exceptional dedication to humanitarian causes.
Wigand graduated from Minnesota State Mankato's accelerated two-year teaching program in 1944. She then began a 31-year teaching career that led her to Adrian, Minn., Winnebago, Minn., and her hometown of Henderson, Minn., where she spent most of her teaching career in a second-grade classroom at Hilltop Elementary School.
Wigand went back to school to earn her bachelor's degree in elementary education in 1970 by taking night classes and summer school while continuing as a full-time teacher.
After retiring in 1991, Wigand volunteered in numerous ways with a wide variety of church and community groups, including Friends of the Library, Church Women's Guild, Red Cross Bloodmobile, Sibley County Food Shelf Board and many more.
For her efforts, Wigand has received many volunteer awards, including the 2010 Outstanding Senior Volunteer Award for Sibley County. Among her other awards, she was recognized by the Federation of Women's Club as the 2005 Outstanding Volunteer for Region 9 and 2010 Empowered Women Recognition award. The Minnesota Valley Action Council awarded her its 2011 R.J. Wolfe Achievement Award, and she has received the Hometown Hero Award from KNUJ Radio.
Those who want more information about the April 20 awards event may go to http://www.mnsu.edu/alumni/awards/ or call (507) 389-1515.
The mission of the Minnesota State University, Mankato Alumni Association is to engage alumni, friends and students in ways that benefit its members and Minnesota State Mankato through opportunities that stimulate a lifetime of interest, loyalty and support.
Minnesota State Mankato, a comprehensive university with 14,712 students, is part of the Minnesota State system, which includes 30 colleges and seven universities.