Fleischman Named Provost, Vice President for Academic Affairs at Ferris State University
VP for Strategic Partnerships came to Minnesota State Mankato in 2015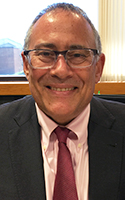 Mankato, Minn. – Robert (Bobby) P. Fleischman (pictured), Minnesota State University, Mankato's vice president for strategic partnerships and the University's associate provost from July 2015 to October 2018, has been named provost and vice president for academic affairs at Ferris State University, located in Big Rapids, Mich., effective July 19.

Minnesota State Mankato President Richard Davenport congratulated Fleischman on his new position and said he was appreciative of Fleischman's years of service to Minnesota State Mankato.
"It is with great pride that I share news of Dr. Fleischman's appointment as provost and vice president of academic affairs at Ferris State University," said Davenport. "I'm very happy for Bobby and speak for many campus and regional leaders when I state that we will miss his dedication, friendliness and visionary leadership. Please join me in congratulating Vice President Fleischman on this new and exciting opportunity. Ferris State is an outstanding Michigan university known for its excellence. We wish Bobby well in his new career opportunity."
Fleischman began his appointment at Minnesota State Mankato as associate provost on July 13, 2015. Davenport appointed Fleischman as the associate vice president for strategic partnerships in October 2018 and vice president for strategic partnerships in January 2020.

Fleischman has served on the president's expanded cabinet and cabinet, participated with the president and vice presidents in overall management of the University, provided leadership and budgetary oversight for the Division of Academic Affairs and has led the University's local and regional external partnership efforts. He has been a member of numerous community organizations.

Davenport said that Fleischman established more than 1,300 purposeful and meaningful partnerships with local and regional businesses and organizations. Davenport said Fleischman's many notable achievements include creating a memorandum of understanding with Costa Rica for education, business, economic and cultural exchange, which is the third such partnership in the country, following others established by Cornell and Syracuse universities.
Prior to joining Minnesota State Mankato, Fleischman served in a series of administrative and faculty roles at East Stroudsburg University in Pennsylvania.
Davenport said he would consult with his cabinet and other University and community leaders before announcing future leadership plans in Minnesota State Mankato's Division of Strategic Partnerships.
Minnesota State Mankato, a comprehensive university with 14,297 students, is part of the Minnesota State system, which includes 30 colleges and seven universities.