June 18: Drive-in Movie to feature 'Godzilla vs. Kong'; Public Invited to Free Showing
Friday, June 18, 2021
9:00 PM - 11:00 PM
Parking Lot 20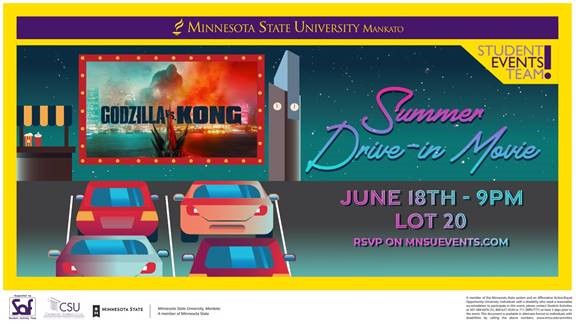 Mankato, Minn. – Minnesota State University, Mankato's Student Events Team will be hosting a drive-in movie Friday, June 18 at 9 p.m. in University Parking Lot 20 (located on the corner of Stadium Road and Warren Street, near Blakeslee Stadium).
The event is free and open to the public, and the featured film will be "Godzilla vs. Kong." The movie will be shown on a new screen that is 19 feet by 30 feet. "Godzilla vs. Kong" is a science fiction action film released in 2021.
A free car registration link is available at mnsuevents.com. Drive-in movie attendees may enter Parking Lot 20 with their vehicles beginning at 8 p.m. from the Monks Avenue entrance.
Concessions will be available for purchase from 8-10 p.m. Due to the COVID-19 pandemic, those who are not fully vaccinated must wear a face covering when outside their vehicles.
Any weather notices or changes to the schedule will be posted on Facebook at https://www.facebook.com/events/526211455078990.
For more information on the drive-in movie, contact Bill Tourville, assistant director student activities at Minnesota State Mankato, by email at william.tourville@mnsu.edu or by phone at 507-799-6294.
According to Minnesota State Mankato's Student Events Team, the only drive-in theater in Mankato, Kato Star Drive-In, closed in 1988 and was demolished in 2002. Preview information from the Student Events Team said that only six active drive-in movie theaters are left in Minnesota, and the closest to Mankato-area residents is 55 miles away.
The Student Events Team is a student-led organization that produces fun, interactive, educational events where students make lifelong memories and celebrate their Maverick pride.
Minnesota State Mankato, a comprehensive university with 14,604 students, is part of the Minnesota State system, which includes 30 colleges and seven universities.