Minnesota State Mankato Creates New Exhibit Space for Lincoln Statue in Memorial Library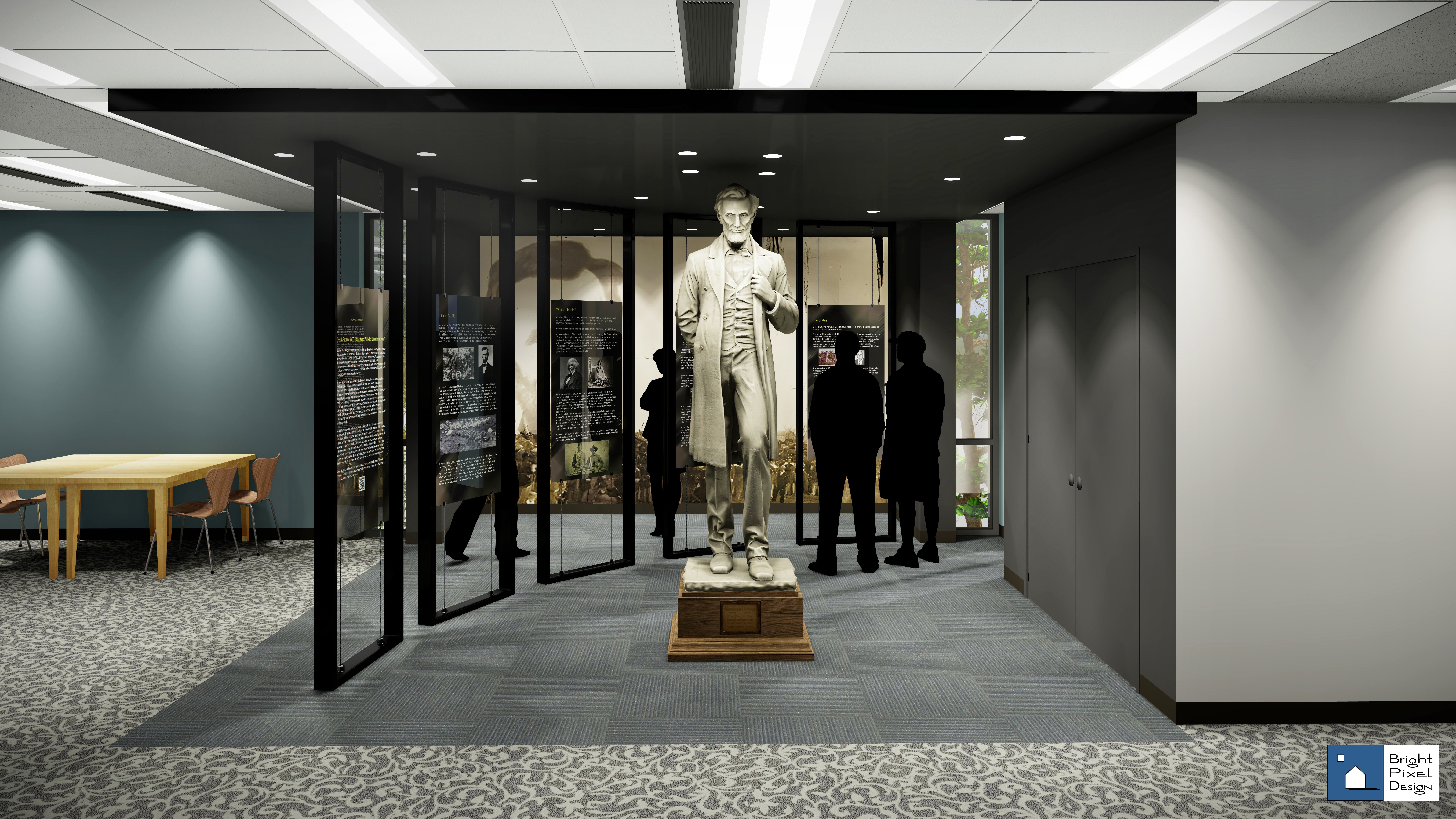 (Pictured above is a rendering of what a Lincoln statue exhibit in Memorial Library could look like in the future.)
Mankato, Minn. – Minnesota State University, Mankato President Edward Inch announced today that a new exhibit and dialog space has been created in the University's Memorial Library to display a 7-foot-tall statue of Abraham Lincoln that was a 1926 gift to the institution from alumni.
"As I spoke about in my Convocation speech on Monday, Universities are places that promote open inquiry, research and dialog as we examine complex and often painful issues," said Inch. "For almost 100 years, the Abraham Lincoln statue has been part of our campus. For many years, the statue has lived in a hallway in our student union. I am pleased that it will now be housed in a more appropriate location that allows for discussion and reflection in a setting designed for dialog, research and inquiry."
The exhibit space, on the Memorial Library's second floor, is open to the public during regular library hours. 
It includes six temporary panels peer-reviewed by historians and indigenous scholars from universities across the nation. The panels were also reviewed by current and former Minnesota State Mankato faculty historians.
The University plans to further develop the exhibit in the future. Current and future Minnesota State Mankato students will be mentored in engaged research and contribute their ideas for expanding on the display.
"I hope this space will stimulate deeper discussions and research that help us better understand the history of the Dakota people, the complexities of Lincoln's time and how historical events shape contemporary issues and thoughts," said Inch. "We encourage our local community and all campus visitors to explore the new exhibit."
The new exhibit space in Memorial Library was recommended in May 2021 as a permanent home for the Lincoln statue by the University's Buildings and Landmarks Committee; that recommendation was approved in November 2021 after review by Inch, who became University president on July 1, 2021.
The Buildings and Landmarks Committee was established in 2020 by former Minnesota State Mankato President Richard Davenport to conduct a University self-assessment of its named campus buildings and spaces.
The Lincoln statue was originally placed in "Old Main" on the institution's Mankato Valley campus. It was moved to the Lincoln Library in 1958. As the institution transitioned to its current location in the 1960s and 1970s, the Lincoln statue moved to the Centennial Student Union in 1978.
Minnesota State Mankato, a comprehensive university with 14,546 students, is part of the Minnesota State system, which includes 26 colleges and seven universities.