Maverick Men's Hockey Team Headed to its First NCAA Frozen Four
Mavericks defeat Minnesota 4-0 in West Region final to advance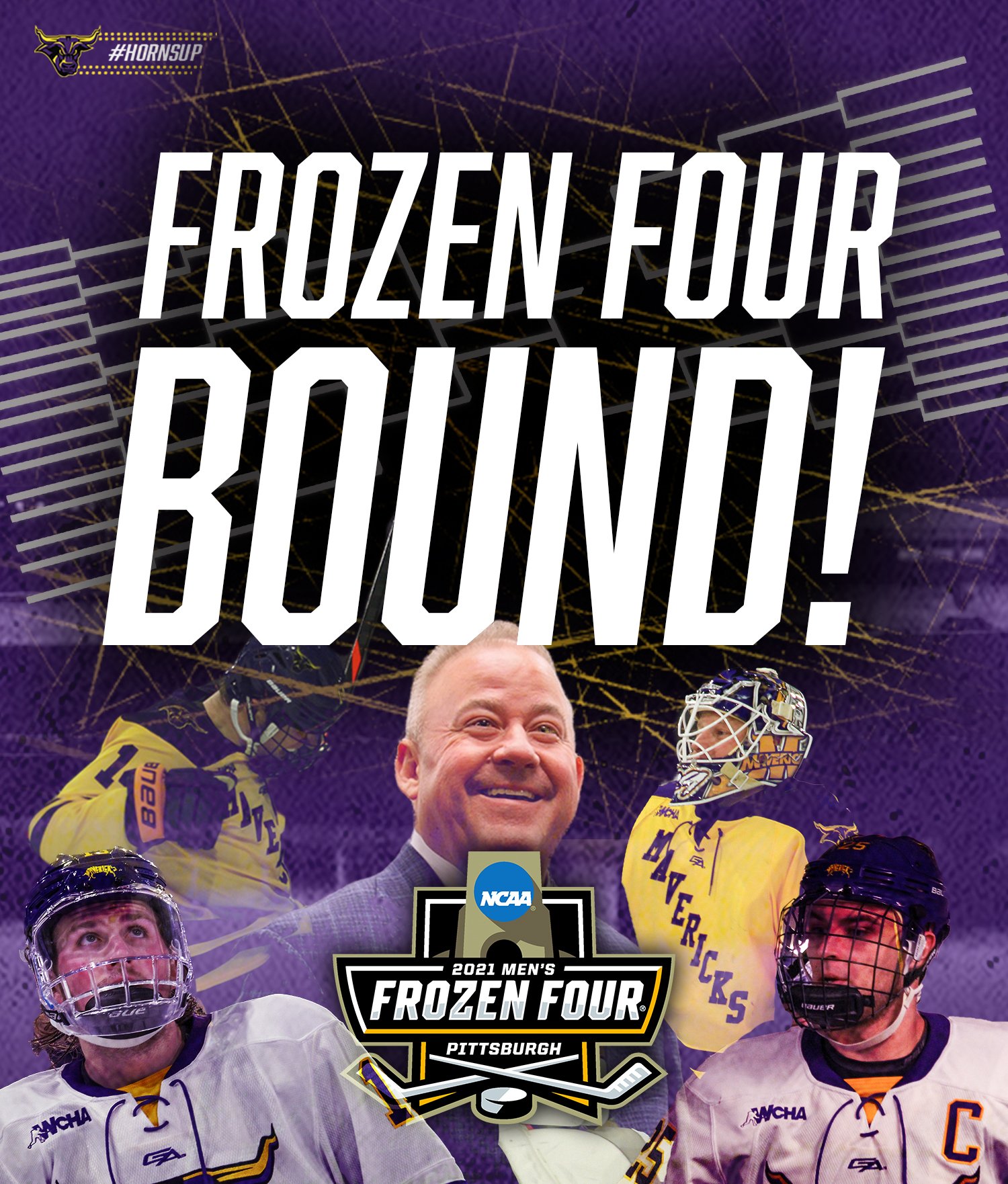 (Photo graphic courtesy of the Minnesota State Mankato Department of Intercollegiate Athletics.)

The Minnesota State University, Mankato men's hockey team defeated Minnesota 4-0 on Sunday in the NCAA West Regional Final in Loveland, Colorado, to advance to the NCAA Frozen Four for the first time in program history.
The Mavericks (22-4-1 overall) will play St. Cloud State (19-10-0 overall) in an NCAA Frozen Four semifinal game at 4 p.m. Central time Thursday, April 8 at PPG Paints Arena in Pittsburgh, Pennsylvania. The game will be broadcast nationally on ESPN2.
The winner of the game between Minnesota State and St. Cloud State will advance to the national championship game Saturday, April 10 at 6 p.m. Central time against the winner of the April 8 national semifinal game between Minnesota Duluth (15-10-2) and Massachusetts (17-5-4).
The April 10 national title game will be broadcast nationally on ESPN.
Against Minnesota, the NCAA West Region's No. 1 seed, the Mavericks opened the scoring at 10:23 of the first period with a goal by Sam Morton and made it 2-0 just over two minutes later when Ryan Sandelin scored at 12:30 of the first.
After a scoreless second period, the Mavericks extended their lead to 3-0 when Nathan Smith scored at 9:50 of the third period. Dallas Gerads scored an empty-net goal with 2:13 remaining in the game.
The Mavericks, the No. 2 seed in the four-team NCAA West Regional, defeated No. 3 seed Quinnipiac 4-3 in overtime Saturday in its first game of the regional to advance to Sunday's game against the Gophers, the NCAA West Region's No. 1 seed.
The win over Quinnipiac was the first-ever NCAA win for the Mavericks, who were 0-6 previously in NCAA play.
For more information on the Maverick men's hockey team and its upcoming trip to the NCAA Frozen Four, go to www.msumavericks.com.