Minnesota State Mankato's MinnPoly Institute Takes New Approach to Higher Education through Project, Work-Based Learning
Launch ceremony set for 3 p.m. Wednesday, Jan. 11 at Saint Paul College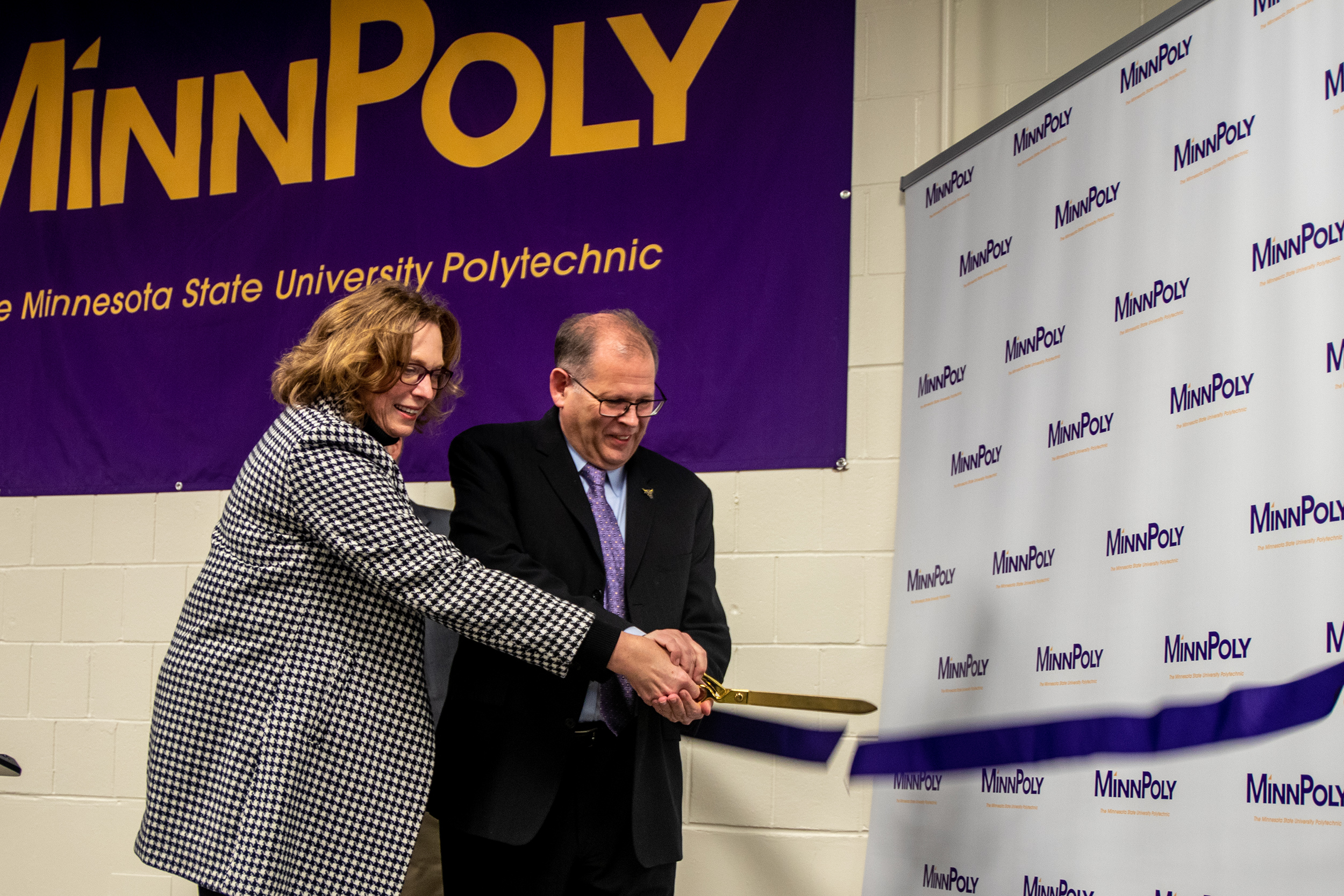 Saint Paul College President Deidra Peaslee (left) and Minnesota State University, Mankato President Edward Inch cut a ceremonial ribbon at a Wednesday, Jan. 11 MinnPoly launch ceremony at Saint Paul College. (Photo courtesy of Saint Paul College.)
Mankato, Minn. – To better meet the changing needs of industry, students and communities, Minnesota State University, Mankato is adding to its project- and work-based integrated engineering programs by establishing the Minnesota Polytechnic and Applied Learning Institute (MinnPoly), the first and only polytechnic institute in Minnesota.
MinnPoly's newest partnership, with Saint Paul College, will be celebrated at a launch event from 3-4 p.m. Wednesday, Jan. 11 at Saint Paul College. The new partnership includes a newly renovated learning laboratory for Minnesota State Mankato's Twin Cities Engineering program, in which students are able to complete a four-year degree exclusively on the Saint Paul College campus.
NOTE TO EDITORS: The media is invited to interview higher education leaders, industry professionals, program alumni and students at Wednesday's ceremony. (The college address is 235 Marshall Ave.; use parking lot E, door 7. The ceremony is on the lower level in room L590.)
Partnerships and collaboration with other colleges, industry and Minnesota State Mankato are the foundation of MinnPoly, said Brian Martensen, executive director of MinnPoly.
"MinnPoly is founded on nimble and responsive solutions to better partner with industries in the ever-changing and fast-paced world in which we live," said Martensen. "Traditionally, higher education has not deviated too much from classroom and siloed learning. But there has been growing evidence that greater integration across disciplines with hands-on learning and practical applications creates a new kind of graduate that is able to adapt to the fast pace of change in technology and society.
"Employers are looking for graduates with particular skills who can immediately contribute to their organizations and quickly advance in their careers. MinnPoly programs contribute to that in a way that blurs the lines between academia and industry."
Martensen said there are many ways for industries to partner with MinnPoly, and that MinnPoly will continue to seek out partnerships that will help ensure the institute is responding to industry needs.
Many of the MinnPoly programs are offered at Minnesota State system partnership schools, allowing more flexibility for both students and industry through technology, distance learning and field-based experiences.
After completing their lower-division courses, usually at a Minnesota State system community college like Saint Paul College, MinnPoly students can complete their bachelor's degrees by completing their upper-division courses at one of Minnesota State Mankato's partner locations in the Twin Cities and on the Mesabi Iron Range.
New courses designed to meet the needs of industry will be added based on demand. For example, new upper-division curriculum in development for the fall of 2023 includes integrated science and technology, and software engineering. Both courses have project-based or work-based learning where the student immerses themselves in industry with projects that enhance their learning, said Martensen.
In addition to its new location at Saint Paul College, Minnesota State Mankato has MinnPoly programs located in Bloomington, Minnesota (Twin Cities Engineering) and Virginia, Minnesota (Iron Range Engineering and Bell Engineering, a unique work-based program in which students complete their degree in the field working directly with employers).
For more information about MinnPoly, please contact Molly Schaefer, MinnPoly's director of operations, at molly.schaefer@mnsu.edu or 612-669-3365.
Minnesota State Mankato, a comprehensive university with 14,482 students, is part of the Minnesota State system, which includes 26 colleges and seven universities.