Minnesota State Mankato Signs MOU with Universidad Politécnica de Santa Rosa Jauregui in Mexico
Students, faculty to have collaborative opportunities on each university's campus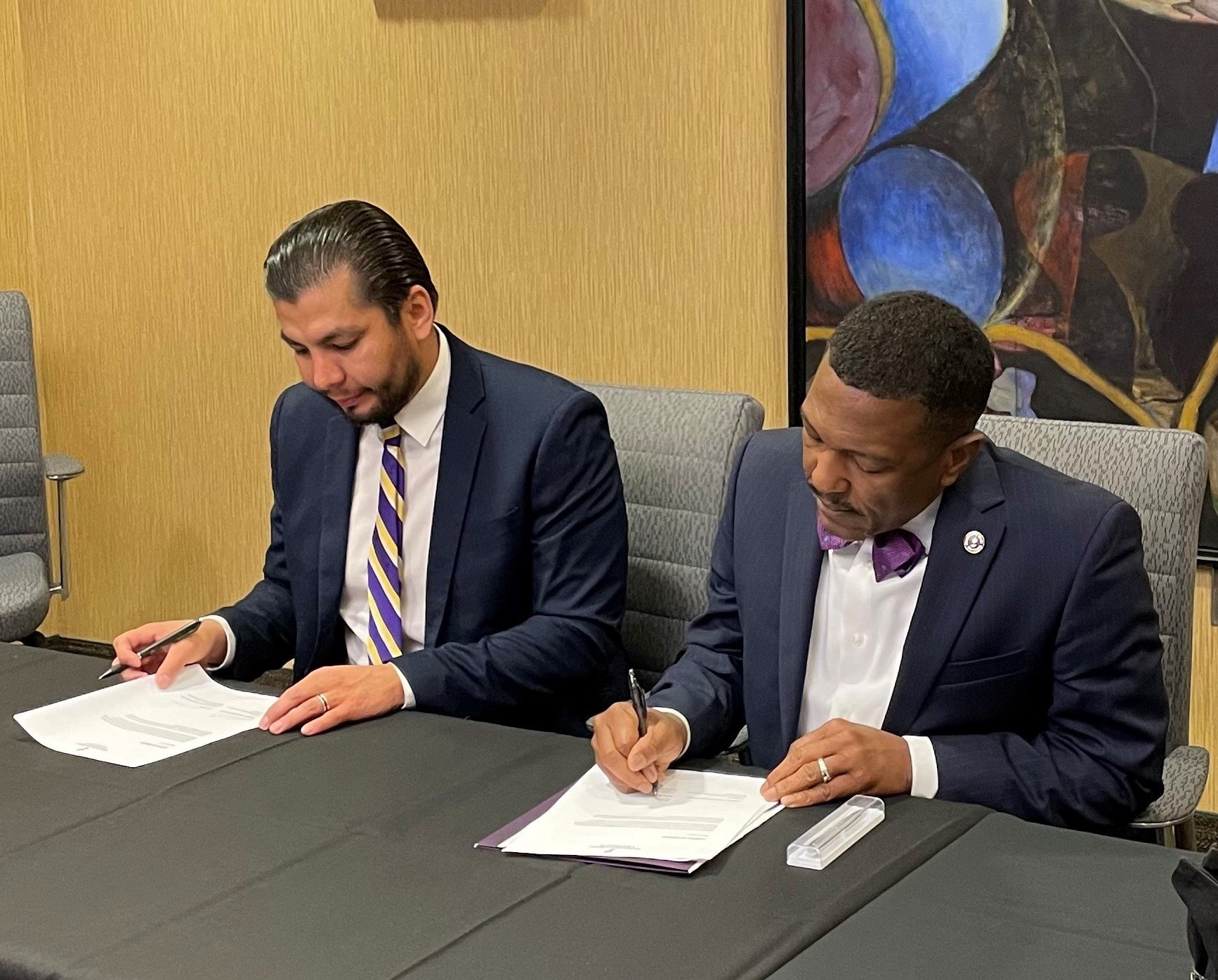 Minnesota State Mankato Provost and Senior Vice President for Academic Affairs David Hood (right) and Christian G. Reyes, rector/president of Universidad Politecnica de Santa Rosa Jauregui in Querétaro, Mexico, sign a Memorandum of Understanding on May 8, 2023 at Minnesota State Mankato.
KEYC TV coverage
Mankato Free Press coverage
Mankato, Minn. – Representatives from Minnesota State University, Mankato and the Universidad Politecnica de Santa Rosa Jauregui in Querétaro, Mexico, signed a memorandum of understanding Monday at Minnesota State Mankato that will allow the institutions to host students and faculty on each other's campuses.
The agreement enables the universities to host students on each campus for study, faculty members to collaborate on teaching and research and activities around projects intended to benefit communities in both countries.
"This agreement enables our students to engage in global experiences through academic study in another culture or while interacting with visiting students on the home campus," said David Hood, provost and senior vice president for academic affairs at Minnesota State Mankato. "In addition, faculty members from both institutions will be able to collaborate on curriculum design and research to help solve real-life challenges in communities in both countries."
For more information, please contact Anne Dahlman, interim dean of global education, at anne.dahlman@mnsu.edu.
Through its Global Education division, Minnesota State Mankato has created partnerships with universities, organizations and government agencies in more than 30 countries and on six continents. These partnerships are varied in scope and serve a critical role in supporting the University's commitment to globalizing its campus through student and faculty exchange, collaborative research and teaching, shared internships, educational opportunities for mutual benefit and more.
Global Education at Minnesota State Mankato, along with its departments, is responsible for planning, coordinating and delivering the principal aspects of the University's international education efforts in alignment with the University's commitment to promote global solutions, embody quality and excellent.
Minnesota State Mankato, a comprehensive university with 14,482 students, is part of the Minnesota State system, which includes 26 colleges and seven universities.