Nursing Student Mariah Cowan Earns $9,750 Meredith Scholarship
MINNESOTA STATE UNIVERSITY, MANKATO MEDIA RELATIONS OFFICE NEWS RELEASE, 2-14-2018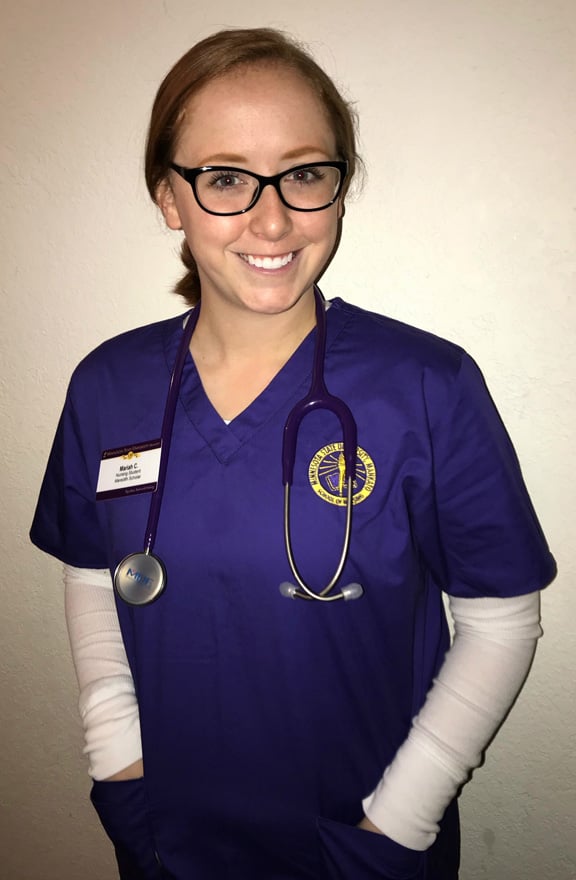 Mankato, Minn. – Mariah Cowan (pictured), a Minnesota State University, Mankato junior nursing student from Andover, Minn., has been awarded a $9,750 Donald and Marjorie Meredith Nursing Scholarship for 2017-2018.
Cowan will receive $3,250 each semester for the last three semesters of her nursing program, allowing her to participate in the School of Nursing and Student Nurses Association in addition to serving on the College of Allied Health and Nursing Advisory Board.
Meredith Scholarships are intended to let recipients focus on their studies without working at part- or full-time jobs. Recipients must have a minimum of a 3.5 grade-point average and demonstrate a well-balanced lifestyle, leadership abilities and commitment to the nursing profession. Recipients have opportunities to participate in undergraduate research, peer mentoring and assisting with simulation activities within the simulation learning lab on campus.
Donald Meredith co-founded Mankato's Orthopaedic & Fracture Clinic, PA with Dr. Paul Gislason in 1957. They served as Minnesota State Mankato's first athletic team physicians and helped the university create what is now the nation's oldest, continually accredited athletic training education program.
Minnesota State Mankato's School of Nursing is part of the University's College of Allied Health and Nursing.
Minnesota State Mankato, a comprehensive university with 14,712 students, is part of the Minnesota State system, which includes 30 colleges and seven universities.