Theatre & Dance Advances 5 to Finals at Region V KCACTF 50
MINNESOTA STATE UNIVERSITY, MANKATO DEPARTMENT OF THEATRE AND DANCE NEWS RELEASE, 1-29-2018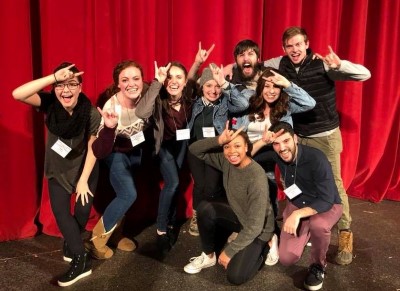 Pictured in the back row (from left) of the photo are Samantha Fairchild, Ashley Ziegler, Alexis Vencill, Sarah Thomas, Gary Scott Du Charme II, Delanie Wiedrich and Matthew Sather. Pictured in the front row of the photo (from left) are Jessica Staples and Andoni Marinos.
MANKATO, Minn. – Five of the 16 finalists at the Kennedy Center American College Theater Festival Region V competition in Des Moines last week were students of Minnesota State University, Mankato's Department of Theatre and Dance. That is the most finalists for the department in about 20 years.
The department participated along with 1,464 registrants, representing 85 colleges and universities during festival week, Jan. 21-27. Region V represents Minnesota, North Dakota, South Dakota, Nebraska, Iowa, Kansas and Missouri, and its regional festival is the largest of the eight in the country.
Minnesota State Mankato had 13 nominees of the 1,464 and placed seven of those students in the semifinal round of the Irene Ryan Acting Scholarship competition, including: Mitchell Evans (junior BFA musical theatre from Litchfield, Minn.), partnered by Matthew Sather (junior BFA musical theatre from Spencer, Iowa); and Zoe Hartigan (junior BFA acting from Lakeville, Minn.), partnered by Felipe Esucdero (sophomore BS theatre generalist from Burnsville, Minn.).
The other five students who made it to the semifinals advanced to the finals (which are the top 16 out of over 400 eligible competitors). They were: Jessica Staples (senior BFA musical theatre from Minneapolis, who was a finalist last year, too), partnered by Gary Scott Du Charme II (senior BFA actor from Linton, Iowa); Andoni Marinos (3rd-year MFA actor from Australia), partnered by Sarah Thomas (senior BFA musical theatre from Roseville, Minn.); Samantha Fairchild (senior BA theatre generalist from Roseville, Minn.), partnered by Cam Pederson (junior BFA musical theatre from East Grand Forks, Minn.); Alexis Vencill (senior BFA actress from Spruce Pine, N.C.), partnered by Ashley Ziegler (senior BFA musical theatre from Brighton, Colo.); and Delanie Wiedrich (junior BFA musical theatre from Hazen, N.D.), partnered by Sather. Wiedrich also captured the Best Musical Theatre Actress award in the final round.
Evans advanced to the Dance Intensive Showcase and performed at the festival. Four students advanced to the Musical Theatre Intensive, including Fairchild, Jodie Bratager (sophomore BFA musical theatre from Rochester, Minn.), Mack Spotts-Falzone (sophomore BFA musical theatre from Wayzata, Minn.) and Samantha Buckley (BA theatre generalist from Thief River Falls, Minn.).
Staples won an invitation for presentation for her 10-minute Protest Play: "Ignorant Silence." Seth Honerman (1st year MFA theatre directing from Sioux Falls, S.D.) was the runner up for the Society for Directors and Choreographers Award.
Henry Anderson (senior BFA theatre design/technology from Woodbury, Minn.) took the 1st Place Regional Technical Project award for "The Diary of Anne Frank." Anderson also won the "Don Childs Stagecraft Institute of Las Vegas" Award, including a one-week residency for his work for "Death of a Salesman."
Ben Kramer (1st year MFA scene design from Madison, N.J.) took 1st Place, Regional Scene Design award for "Romeo and Juliet." Cam Pederson took 1st Place, Regional Allied Craft award for "The Little Mermaid."
Emily Kimball's (3rd year MFA costume design from Mankato) costumes for "The Women of Troy," for Bethany Lutheran College, were invited to the juried Annual Costume Parade.
KCACTF certificates of commendation for past productions at Minnesota State Mankato were awarded to: Jayme Caye Beerling (BFA design/technology from Prior Lake, Minn.) for scenic design for "The Game's Afoot"; and to Blake Bruns (former student from Nicollet, Minn.) for lighting design for "The Glass Menagerie."
The cast of "The Glass Menagerie" was awarded a certificate for ensemble acting for this show, as was the cast of "The Aeneid" for theirs. "The Aeneid" cast also received an award for presetting an invited scene at the festival. David McCarl won a certificate for Costume Parade participation for "Aida."
During the past year, faculty members John Paul, Heather Hamilton, Melissa Rosenberger and Paul J. Hustoles have served as Region V respondents. Faculty member George E. Grubb presented workshops at this year's festival.
Hustoles continues his service to Region V by being on the regional advisory board and served as the festival registrar for this, his 18th time.
Finally, Minnesota State Mankato alumna Sheila Tabaka (MFA costume design) was awarded the prestigious Kennedy Center Gold Medallion for her contribution as past Region V chair of design/technology/management; and alumnus Jim Wood (MFA directing) was anointed as the incoming chair of Region V, KCACTF.