Pageant & Singalong Nation Returns
chorus member recruitment is underway for september performance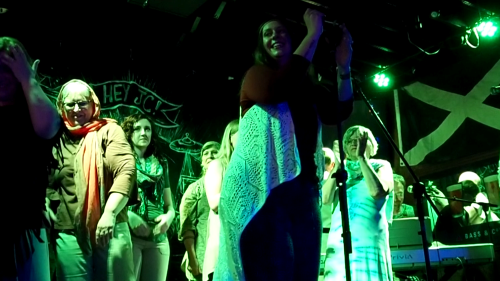 After a two year "world events" related hiatus, the Pageant & Singalong Nation is returning to put on a Midlife Recital performance at Minnesota Square Park Pavillion on Sunday, September 4th at 4:00 p.m. This is a free event.
Rehearsals began in June to work on the individual solo performances that will make up the Midlife Recital, featuring songs that helped us through the pandemic, and there is currently an open call for chorus members to join in. No prior experience or training is necessary to sing in the chorus. All you need is a willingness to have a great time with other fun people that have a burning desire to put on a show. Songs that require choral support include Journey's Don't Stop Believing, Prince's Purple Rain, the KMSU pandemic anthem Like A Ship by Pastor T.L. Barrett & the Youth For Christ Choir, and many more.
Rehearsals take place every Wednesday night at 7:00 at the Arts Center of Saint Peter (315 S Minnesota Avenue, Saint Peter, MN), with future full group rehearsals taking place at Patrick's on 3rd in Saint Peter (125 S 3rd Street, Saint Peter) during the month of August. For additional information, visit Pageant & Singalong Nation on Facebook, or just show up at one of the weekly rehearsals.
Pageant & Singalong Nation performances are made possible with funding from the Minnesota State Arts & Cultural Heritage Fund.