Talk Like A Pirate Day 2023
Tuesday, September 19, 2023
6:00 AM - 9:00 AM
KMSU Radio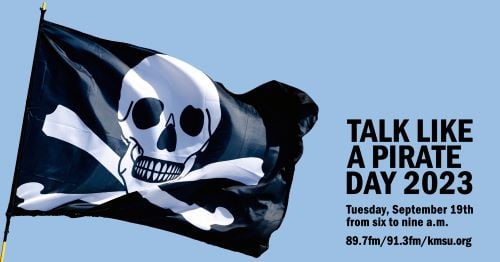 Tuesday, September 19th, is Talk Like A Pirate Day, which means Shyboy Tim & Shelley will be speaking only in their best pirate voices during the Shuffle Function Morning Show. Three Hours of gruff talk about walkin' the plank, Davey Jones' locker, and shivering timbers.
The Rules
1) If you call with your requests at 507-389-5678 or 1-800-456-7810, you must speak with a pirate voice! If you use your land lubber voice they won't be able to understand you. If this confuses you, don't worry about it. It always confuses the hell out of the Legendary Stardust Cowboy when he calls. But basically, no pirate voice, no requests.
2) If you text your requests to 507-389-5678 you must text like you're a pirate! If you don't use pirate lingo in your text they won't be able to understand you.
Shyboy Tim and Shelley will also be issuing pirate names that morning, so call or text us to request one!
Listen at 89.7fm/91.3fm/kmsu.org, or as your smart speaker to play KMSU Radio! You can find playlist and listen 89.7 the Maverick live or on demand with the KMSU streaming app, available for Apple and Android devices.