Shuffle Function Presents The Last Waltz
Thursday, November 23, 2023
6:00 AM - 9:00 AM
KMSU Radio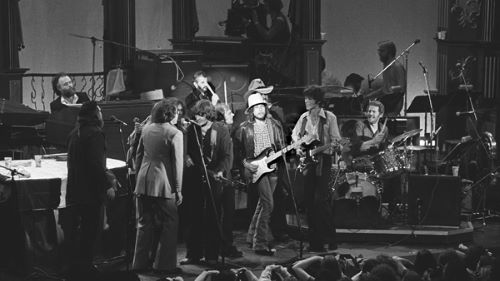 On Thanksgiving Morning (Thursday, November 23rd) from six to nine a.m., Shuffle Function will be airing its annual celebration of The Last Waltz, which took place on Thanksgiving Day 1976 at Winterland Ballroom in San Francisco, CA. The concert was billed as the final performance by The Band, who gained notoriety as Bob Dylan's backing band during his 1966 world tour, and it featured a who's who of legendary musicians from the era. It was also the subject of the critically acclaimed Martin Scorsese documentary "The Last Waltz".
Shyboy Tim and Shelley have been lifelong fans of The Band and The Last Waltz documentary, and they loved the idea of celebrating it on the day it was performed. They put together a show that includes some of their favorite performances from the concert, including many that were not included in the original film and soundtrack album. It's the perfect soundtrack for cooking a humungous turkey and preparing for a day of parades and gluttony, so be sure to listen!
Tune in to 89.7fm/91.3fm/kmsu.org, or listen live or on-demand via the KMSU app, available for Apple and Android devices.