Medallion Hunt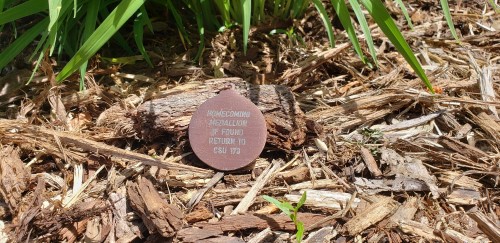 The first 2022 Medallion Hunt clue will be announced at the Monday, September 19, 2022.
Clues available at:
CSU MAV Ave
Visit Homecoming Facebook Page
Clue #1:
I have heard story after story of heartache.
I have witnessed pain, sorrow and intense love.
I have seen peoples hearts printed out for the
world to see, in hopes it will touch someone.
Clue #2:
Once the medallion is found, it will be announced in both locations. Please take the medallion to CSU 173.
Rules
The medallion is NOT located in any buildings.
The medallion is NOT located in any construction areas.
The medallion is NOT located somewhere on campus that you couldn't normally get to.
NO digging or climbing will be necessary to find the medallion.
Open to Minnesota State University, Mankato students only.
The medallion is not hidden in the Amos Owen Garden of American Indian Horticulture. Please do not dig in the garden.
Prize Package
The finder of the medallion hunt will be awarded with an "Ultimate Fan Package" that will include items donated by different groups on campus including:
2 Reserved tickets to Maverick Hockey (Maverick Athletics)
4 Reserved tickets to Maverick Football (Maverick Athletics)
2 Free foga Matts (Campus Recreation)
Minnesota State University, Mankato hooded sweatshirt (Centennial Student Union)
5 free combos (Soda, Candy, and Popcorn) at Stomper's Cinema (Stomper's Cinema)
5 Free Games of Bowling (Maverick Bullpen)
4 Dog Pound Tickets for Mankato Moondogs - https://northwoodsleague.com/mankato-moondogs/
2 Large Pizzas from dominos
$20 giftcard to Kwik Trip
$50 giftcard to Target
Student Events Team Prize Pack
Homecoming T-Shirt (Student Events Team)
Note: If a group of multiple students find the medallion, neither the Student Activities Office nor the Student Events Team Homecoming Committee is responsible for how the "Ultimate Fan Package" is divided between winners.