Hall of Fame Dinner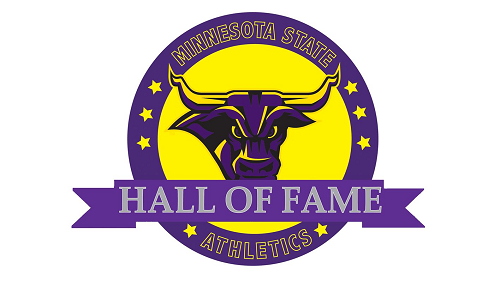 2018 Hall of Fame Dinner Press Release
The Minnesota State Athletics Hall of Fame class for 2018 will be formally inducted this Friday in Mankato.

Along with seven individuals, a "team" inductee and this years' service and philanthropic award recipients will also be recognized. This year's induction is this Friday with the formal induction ceremony taking place at the Hall of Fame Induction Dinner held in MSU's CSU Ballroom (registration at 6:00 p.m., program starts at 7:00 p.m.).

The new Hall of Fame members in the student-athlete category include women's multi-sport standout Ann Dalager (MSU 1969-73), All-American high jumper Mike Hazelhoff (MSU 1966-71), national champion and three-time wrestling All-American Scott Madigan (1976-81), men's basketball star Elisha McSweeney (MSU 1974-76) and wrestling national champion Bob Soulek (MSU 1964-68).

Slated for induction in the builders category are longtime Maverick Athletics booster Rod Mitchell and former Minnesota State administrator Sandra Loerts.

Selected for induction in the "team" category are the men's indoor track and field team that finished second in the nation in 1989.

The Jim Schaffer Service Award will be presented to John Behrends and this year's MSU Athletics Philanthropic Award recipient is Kelby Krabbenhoft.

Ann Dalager (1969-73, Women's Basketball, Women's Volleyball, Student-Athlete Category) --- Co-captain of first state champion basketball team (1972)...Starter on volleyball teams that played in nationals at the University of Kansas and Miami-Dade...Leader of teams that logged numerous of "firsts" for women's athletics at MSU -including first team to travel out of state, first team to compete for state title, first team to compete at nationals...Minneota, Minn., native was volleyball team co-captain as a senior.

Mike Hazelhoff (MSU 1966-71, Men's Track & Field, Student-Athlete Category) --- Four-year letterwinner in the high jump...Two-time All-American... Swea City, Iowa native finished third in NCAA Division II in 1969 (6' 9") and placed fifth in 1970 ... Northern Intercollegiate Conference champion outdoors in 1969, North Central Conference champion indoors in 1970 (6' 8")...Held the school record in the high jump in 1970 with 6' 10" leap.

Scott Madigan (MSU 1976-81, Wrestling) --- Four-time wrestling letterwinner was a national championi, a four-time conference placewinner and three-time league champ during career...Won Northern Intercollegiate Conference titles in 1978, 1979 and 1980...Two-time team captain was a three-time NCAA Division II All-American - finished fourth in 1978, first in 1979 and second in 1980...Member of the Dean's List in 1980 and marketing club member...Spent 1981 as an assistant under Rummy Macias.

Elisha McSweeney (MSU 1974-76, Men's Basketball, Student-Athlete Category) --- Helped lead MSU to North Central Conference title in 1975-76...Averaged NCC record 26.1 ppg over the course of two seasons (1,261 career points)...Led the team in points twice (695 in 1974-75 and 566 in 1975-76...Led the team in rebounding twice (school-record 364 in 1974-75 and 249 in 1975-76)...Owns school records for rebounds in a game (24 vs. Northern Iowa in 1974), single-season rebounds per game (14.6 in 1974-75) and career rebounds average (12.3)...157 free throws made in 1974-75 ranks second on MSU's single-season list...Named to Holiday Tournament (Sioux Falls) All-Tournament Team in 1975...Selected by Cleveland in the tenth round, 171st overall in the 1976 National Basketball Association draft...Played professionally in the Eastern Basketball Association and in Puerto Rico following conclusion of collegiate career.

Bob Soulek (MSU 1964-68, Wrestling, Student-Athlete Category) --- Three-year wrestling letterwinner...Two-time NCAA Division II champion (1966 and 1967) - One of three MSU wrestlers win two national championships...Also made it to the quarterfinals of NCAA Univesity Division tournament in years that he won DII titles...Northern Intercollegiate Conference champion in 1967 and 1966, second place in NIC in 1965...Tri-captain in 1966-67....Member of NCAA Division II second-place team in 1966-67 (inducted into MSU Hall of Fame in 2002)... In his three years as varsity wrestling team member, MSU won the 1965 national championship, placed fourth in 1966 and were national runnerups in 1967...Inducted into the DII Wrestling Coaches Association Hall of Fame in 2004...Inducted in Le Center (Minn.) High School Hall of Fame (first wrestler inducted)... Served as New Prague High School wrestling coach from 11 years....Inducted posthumously.

Sandra Loerts (Administrator, Builders Category) --- Worked for 38 years in Minnesota State financial aid office...Served as Director for last 27 years of career before retiring in 2017...Implemented virtually all financial aid systems to allow Maverick Athletics to comply with NCAA scholarship rules and regulations...Worked hand in hand with athletic administrators to ensure proper awarding of more than $2-million annually in student-athlete scholarships. (Master's degree from MSU in 1979).

Rod Mitchell (Booster, Builders Category) --- Mankato native helped start two annual special event fundraisers with Hoops Fest and the Pig Skin Barbeque which has led to over $200,000 for student-athlete scholarships...Season ticket holder and booster club member for football, basketball and men's hockey for many years and served as president of the Touchdown Club in 2014...Helped start MSU football tailgating events...2015 Minnesota State Athletics Jim Schaffer Service Award recipient.

1989 Men's indoor track and field team (Team Category) --- Led by head coach Mark Schuck...The Mavericks finished second in NCAA Division II in 1989 and had six All-Americans at nationals in Moo Muhammad (fourth in long jump, sixth in 55m), Bob Kern (third in pole vault), Curt Maertens (fourth in pole vault), Mike Yonkey (second in shot) and Harvey Mills (second in triple jump). This team also claimed the 1989 North Central Conference team title and boasted four individual league champions in Ray Spann (55m hurdles), Harvey Mills (triple jump), Moo Muhammad (long jump) and Mike Yonkey (shot). Also earning second-place finishes at the NCC meet were Matt Vought (400m), Mike Schweizer (5000m) and Curt Maertens (pole vault). Pete Bushman was fourth in the 1500m, Harvey Mills was fifth in the 55m and long jump and Bob Kern was fifth in the pole vault. Wade Frauendienst was sixth in the triple jump.