Career Champions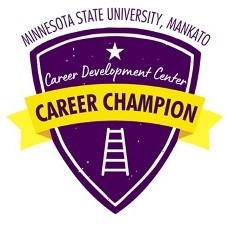 Career Champion: a member and role model in the Maverick community who positively impacts a student's career development in a variety of ways based on their interactions that occur as part of their everyday work.
Program Goals
To provide career resources and training to the many faculty and staff across Minnesota State University, Mankato who impact student career development. Career is everywhere.
To empower staff and faculty partners to see themselves as career influencers and actively share these career resources with students.
To increase career integration in the classroom, extracurricular activities, and informal spaces so that students can access valuable career exploration and development with multiple entry points.