Foundation Annual Gala

Annual Purple & Gold Gala
The annual Purple and Gold Gala is the University's premiere on-campus event exclusively for Purple and Gold Society members. This keystone event is held to honor and celebrate the University's most generous donors.
---
A Black Tie Affair
The Purple & Gold Gala is an annual formal event put on by the Minnesota State University, Mankato Foundation in honor of donors who have made a significant impact to Minnesota State Mankato and its students.
---

Gala Activities
The evening starts with a social hour, complete with hors d'oeuvres and a special performance by the Minnesota State Mankato Theatre and Dance Department.
Following social hour is dinner, complete with a dessert buffet, music and a recognition program.
---
Attendance
Attendance is by invitation only and is a Purple and Gold Society exclusive event. Attire is formal; purple and gold is encouraged. Valet parking is available.
The 2021 Purple and Gold Gala is scheduled for the evening of Friday, September 24, 2021 in the Centennial Student Union Ballroom. Please contact Michelle Reinhardt at 507-389-1905 or 877-949-0391 with questions.
---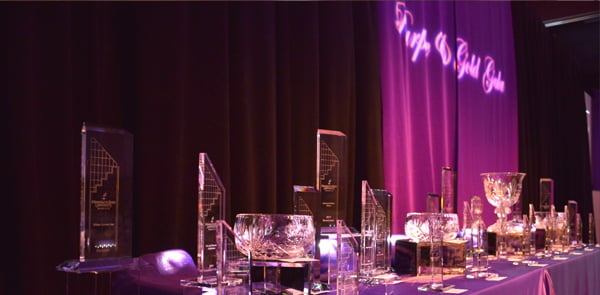 Each year, we recognize three outstanding donors for their generous contributions to the University. Their stories are proof that through giving, we can change the world for the better, give students opportunities they wouldn't have had otherwise, and make a powerful and positive impact.