Directions to the Center for Excellence and Innovation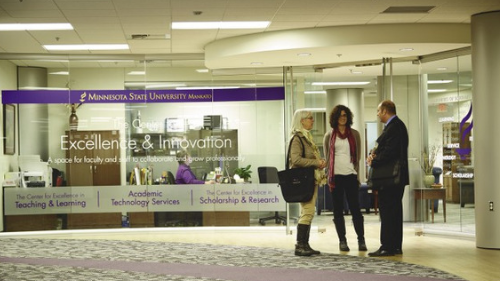 Directions to the Center for Excellence and Innovation
To find the center from on campus in Mankato:
Use the main entrance to enter Memorial Library itself. Do not take the stairs to the lower level before entering the library. Campus Map
After passing the circulation desk inside the entrance, take a right.
Continue past the first stairwell. When you reach the second stairwell, go downstairs using the stairs or elevator located there.
When you get to the basement, The Center for Excellence and Innovation will be to your left in ML 88.
What is the Center for Excellence and Innovation?
The center is a collaborative space for faculty and staff professional development and is a shared primarily by:
The Instructional Designers of IT Solutions
Center for Excellence in Teaching and Learning (CETL)
Center for Excellence in Scholarship and Research (CESR)
Who can use the Center? What can I find there?
Faculty and staff are welcome here, whether for a planned program, an impromptu meeting or just a quiet moment of study or reflection. We have a variety of spaces for your use:
ML 88 open area with casual seating and cafe-style work spaces
ML 88I casual space D2L Brightspace Drop-in Support
ML 88A conference room with monitor
ML 94B Telepresence conference room