Dining Dollars
Students living on campus have Dining Dollars on their MavCARD.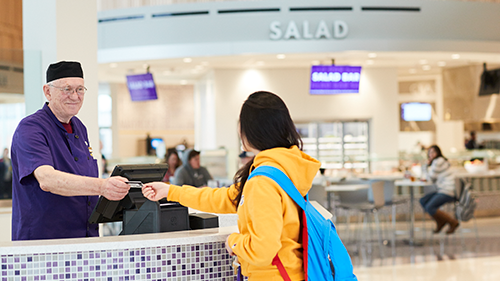 Where to Spend Dining Dollars
At any Dining Services location, including purchases in the Everyday mobile ordering app. View locations.
How to Use Dining Dollars
Present your MavCARD to the cashier. Your purchase is deducted from your account.
How to Check my Balance
Your updated balance will be shown on your receipt after each transaction. You may also check your balance online.
How to Buy More Dining Dollars
You may purchase additional Dining Dollars online.
Do Dining Dollars Expire?
Un-used Dining Dollars on most plans will roll over from fall to spring semester (but not to the next academic year). Converted Dining Dollars (from the 160 plan) do not roll over and must be used in the same term.
Converted Dining Dollars (from 160 Plan)
Students on the 160 Meals per Semester plan may convert meals to Dining Dollars twice a semester. Once meals are converted to Dining Dollars, they may not be converted back to meals. The meal to Dining Dollar conversion rate is $7.08 for the 23-24 academic year.