Food Allergies & Sensitivities
99% of our menu items are peanut free.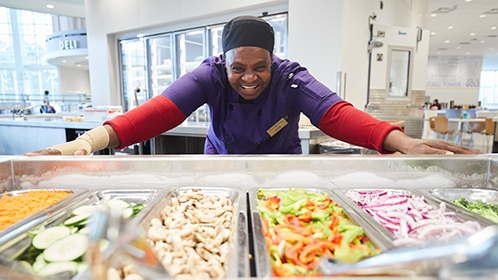 Our dining partner, Sodexo, offers the Simple Servings program in our University Dining Center. Minnesota State University, Mankato is one of only two Minnesota universities listed in Allergic Living magazine's nationwide summary of universities that offer programs and menu options for students living with food allergies.
Simple Servings is our solution to proactively address most of the ingredients that account for 90 percent of all food-allergy reactions: milk, eggs, wheat, soy, shellfish, peanuts, sesame, and tree nuts. Simple Servings also recognizes the current skyrocketing demands for gluten-free foods, which certain students may require out of medical necessity or simply by choice. Simple Servings also appeals to students who prefer plain and simple foods and those with other health-related dietary concerns, such as Type 1 Diabetes.
With Simple Servings, students can comply with food allergy or other dietary concerns without feeling singled out. They won't have to go off campus for their meals or miss out on dining with their friends while waiting for the chef to specially prepare their meals.
The lunch and dinner menu change daily and include varied protein options: fish, beef, pork, chicken, and turkey. All side dishes are vegan, made without milk, eggs, or meat products. Click here for more information on Simple Servings. You may also contact our Registered Dietician who can assist you and answer your questions.
---
Peanuts
The recipes on our website are corporate recipes that we are unable to change to ensure consistency throughout our operations. When we put together a menu, any dish we want to serve that contains peanuts has them removed completely from the recipe as we want all students to be able to enjoy whatever they would like. At that time, we are able to export the menu, and take the peanut label off our digital signage, as that is in our control.
99% of our menu items are peanut free and we have even moved to individually packaged peanut butter at our cold breakfast area to help eliminate cross contact or an airborne allergy. Our bakery does have peanuts, but rarely serves anything containing them and if so, is heavily labeled.
---