Frequently Asked Questions
Check out the questions below. If you don't find the question or answer you're looking for, contact us at our OneStop for assistance.
Academic Advising & Majors
Who is my academic advisor?
Your academic advisor is assigned according to your declared major. You may be assigned to work with the Advising Center for your college, which means you can contact their team for your advising needs. The University Advising Center advises all students who are currently undecided about their major. You may have a faculty advisor from your program. Your advisor or advising team's name is located at the top of your class schedule, which is viewable from the E-services website. You can also call 507-389-1650 for assistance.
What's the difference between "declaring" and being "admitted to" my major?
Students can declare a major at any time - essentially allowing a student to formally share their desire to pursue a particular major. Undecided students should declare majors as soon as they feel they are ready. Students are admitted to majors when they have met department requirements to take advanced coursework in that major. Students can review admission requirements in the Undergraduate Catalog by reviewing the "Admission to Major" information for the department they plan to pursue.
How do I make an appointment with an advisor?
If you are undecided about your major, contact the University Advising Center! You're also welcome to stop by to set up an appointment. Undecided advising is located in Memorial Library 111.
If you have selected a major, and have been assigned to a specific advisor or advising team, you can look up your their name by logging into E-services. Select "Courses & Registration," and "View/Modify Class Schedule." Your advisor or advising team will be listed above your schedule.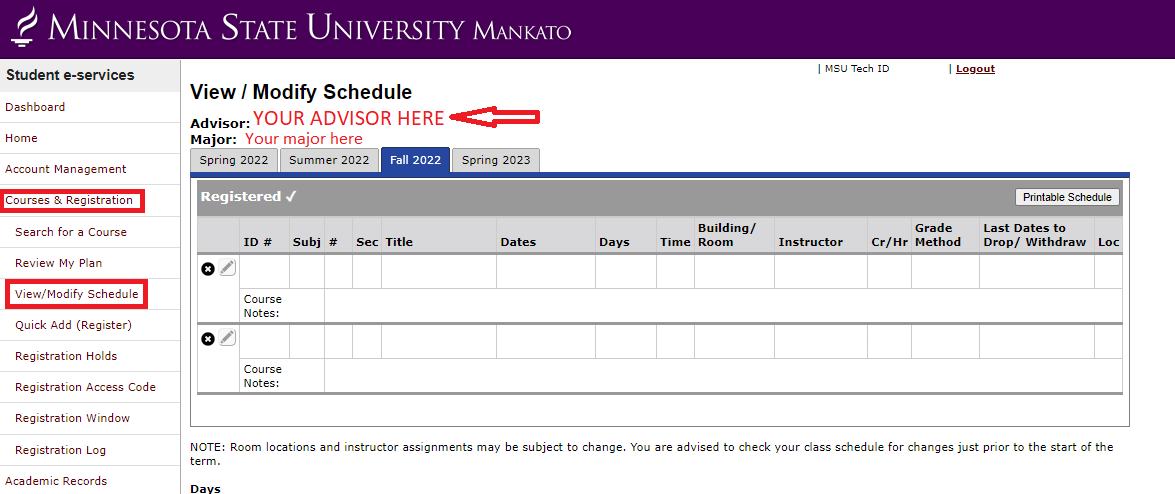 After you've located your advisor or advising team, go back to the Minnesota State Mankato home page, and enter the name into the search location in the upper-right corner, and click on "search." This will lead you to your advisor's contact information - including office location, office phone number, and email address.