Quality Matters®
What is Quality Matters?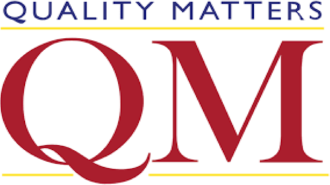 Quality Matters (QM) is a nationally recognized, faculty-centered, peer review process designed to certify the design quality of online courses and online components. QM provides on-site, online, and web-based professional development opportunities. Additionally, QM provides an online rubric that outlines principles of effective design for teaching classes online. The rubric contains 8 general and 43 specific standards that cover issues such as course structure, management, and instructional design. Find out more about Quality Matters.
Who do I contact for more information about Quality Matters?
IT Solutions collaborates with a number of institutional partners to provide support services for Quality Matters. Quality Matters Institutional Representative, Michael Manderfeld, and faculty liaison, Dr. Emily Stark, Ph.D. are happy to meet with you to discuss QM and how it might benefit your own online course.
How involved is Minnesota state Mankato with Quality Matters?
Minnesota State University, Mankato leads the system in the number of QM certified courses at 4-year Institutions. As of Summer 2019, QM records show that:
174 faculty/staff have completed an APPQMR workshop
7 faculty/staff have completed the QM Peer Reviewer Certification Course and have become QM Certified Peer Reviewers
7 Certified Peer Reviewers have served on course review teams
4 faculty/staff has completed requirements to become a QM Certified Master Reviewer
65 courses have received QM recognition (not counted are any currently in the submission or review process)
77 courses have been reviewed in the QM system by faculty reviewers from Minnesota State University, Mankato
What types of Quality Matters Professional Development opportunities are available?
The Applying the Quality Matters Rubric (APPQMR) workshop is QM's flagship training. It provides an in-depth exploration of the QM Rubric and its use in evaluating online courses. Minnesota State has historically subsidized the costs for individuals at institutions to participate in online and in-person workshops licensed by QM including the Applying the Quality Matters Rubric (APPQMR) and Improving Your Online Course (IYOC) workshops.
An events calendar of all system office sponsored educational development opportunities (including the QM workshops) is posted on the ASA Events Calendar.
How do I register for the online Applying Quality Matters Rubric Workshop (APPQMR)?
You can register for upcoming APPQMR Trainings via this event Calendar, ASA Events Calendar, or contact Michael Manderfeld for more information.
How do I get a course reviewed?
QM recommends that courses undergo review only after they have been taught at least once, if not twice, by the instructor. Follow the steps of the Minnesota State University, Mankato Institutional Process document to ensure that the review process goes smoothly. If you have any questions while working through this process, do not hesitate to contact the Quality Matters Institutional Representative, Michael Manderfeld, or Emily Stark, the QM faculty liaison for Minnesota State University, Mankato.
Dr. Emily Stark discusses her experience with QM course review
Where can I review the Quality Matters standards and recommendations?
If you would like to review the QM standards and learn how you might apply one or more of them in your own course, please see our list of recommendations.
How can I use the Quality Matters® D2L brightspace Template?
Instructional Design Services has developed a Quality Matters template for D2L Brightspace. This template outlines mechanisms to help you consider ways of designing your course to address QM's 43 standards. To implement the QM template in your own course, please Submit a Ticket. If you would like more information about the QM template, please contact Michael Manderfeld, or watch our Template Overview Video.