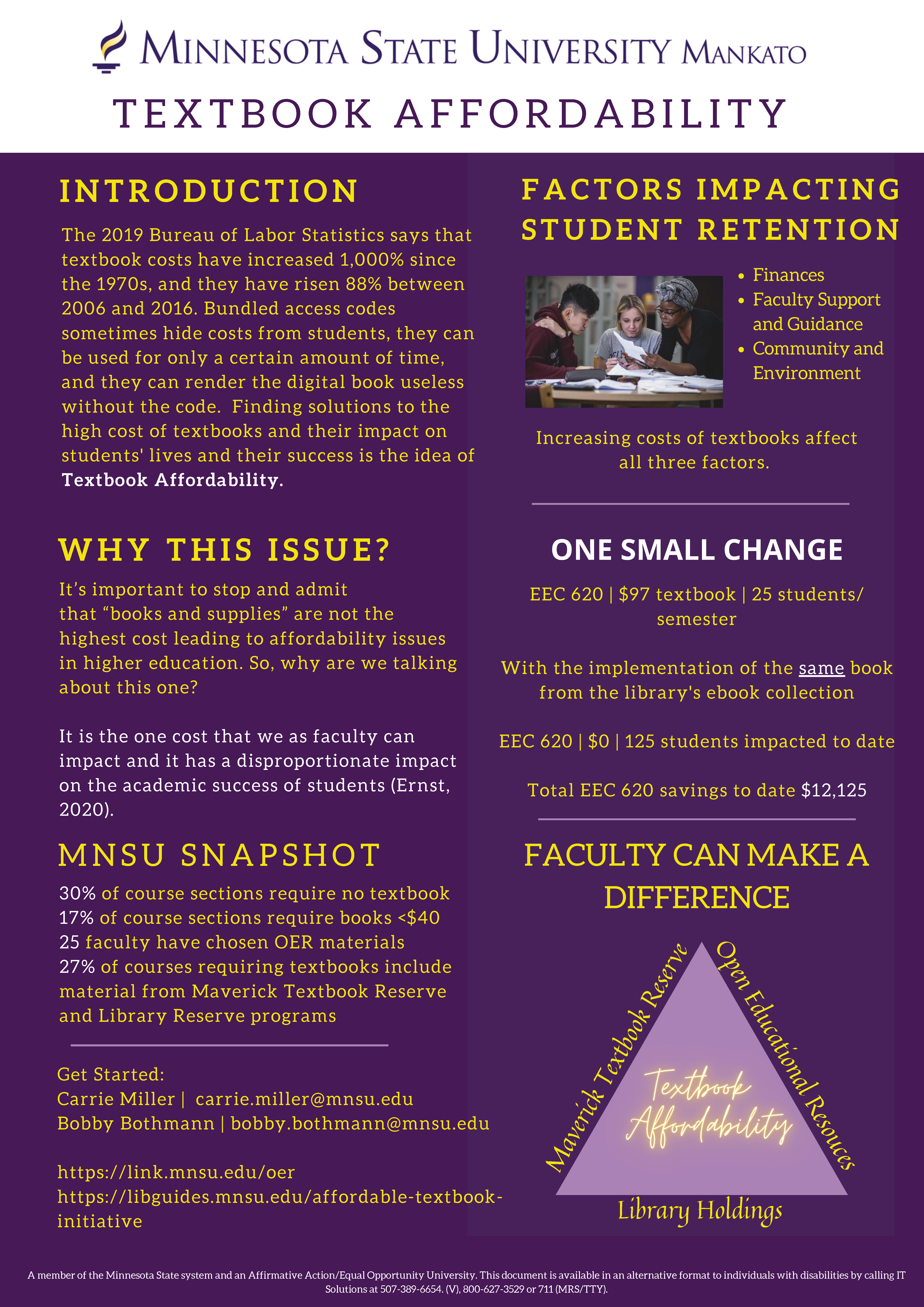 Download Textbook Affordability Quick Facts
Textbook Affordability
Introduction
The 2019 Bureau of Labor Statistics says that textbook costs have increased 1,000% since the 1970s, and they have risen 88% between 2006 and 2016. Bundled access codes sometimes hide costs from students, they can be used for only a certain amount of time, and they can render the digital book useless without the code. Finding solutions to the high cost of textbooks and their impact on students' lives and their success is the idea of Textbook Affordability.
Why this issue?
It's important to stop and admit that "books and supplies" are not the highest cost leading to affordability issues in higher education. So, why are we talking about this one? It is the one cost that we as faculty can impact and it has a disproportionate impact on the academic success of students (Ernst, 2020).
MNSU Snapshot
30% of course sections require no textbook
17% of course sections require books <$40
25 faculty have chosen OER materials
27% of courses requiring textbooks include material from Maverick Textbook Reserve and Library Reserve programs
get started
Carrie Miller | carrie.miller@mnsu.edu
Bobby Bothmann | bobby.bothmann@mnsu.edu
https://link.mnsu.edu/oer
https://libguides.mnsu.edu/affordable-textbook-initiative
Factors impacting student retention
Finances
Faculty Support and
Guidance Community and Environment
Increasing costs of textbooks affect all three factors.
One Small change
EEC 620 | $97 textbook | 25 students/semester
With the implementation of the same book from the library's ebook collection
EEC 620 | $0 | 125 students impacted to date
Total EEC 620 savings to date $12,125
faculty can make a difference
Textbook Affordability:
Maverick Textbook Reserve
Open Educational Resources
Library Holdings