Keynote & Featured Speakers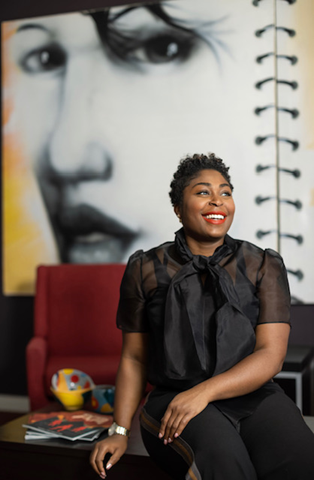 Gabrielle Grier
February 17th 8:45 a.m. CST
Title: Dreaming has Always Saved Us…
Gabrielle Grier is an artist, visionary, facilitator and participant of growth, perspective shifts and intentional responses to social and political change. With a strong focus on the exploration, documentation & claiming of cultural and historic identities, her work is filled with imagery, narrative, and the importance of fusing intergenerational voices.
She is contemporary in the sense that she is ever evolving, while being conscious of what ancestry has taught us. She has spent 17 years partnering with schools, art spaces, and organizations to implement systems change which include strategic vision, programmatic development, and organizational culture that keep the voices of people at the center of the work by using the creative process as a throughline for imagination and innovative design. Recently her work has been in North Minneapolis where she leads Juxtaposition Arts, an art and design creative hub, retail shop, and gallery. She holds a Master's in Education in Youth Development and Leadership and a Bachelor of Arts in Fine Arts and Youth Studies, both from the University of Minnesota-Twin Cities.
---
Tracey Michae'l Lewis-Giggetts
February 17th – 1:30 p.m. CST (Virtual)
Title: Black Joy: A Strategy for Healing, Resistance and Reckoning
Tracey Michae'l Lewis-Giggetts offers those who read her work an authentic experience; an opportunity to explore the intersection of culture, identity, and faith/spirituality at the deepest levels. As a writer, Tracey has published twenty books including several collaborations with high-profile authors such as Tabitha Brown's Feeding the Soul, Better, Not by Yusef Salaam and others. She is the founder of HeARTspace, a healing community created to serve those who have experienced trauma through storytelling and the arts. Her critically-acclaimed book Black Joy has been nominated for a 2023 NAACP Image Award for Outstanding Literary Work- Instructional.
Tracey holds a Bachelor of Arts degree in Communication from the University of Kentucky, a Master of Business Administration degree from Montclair State University, and a Master of Fine Arts degree from Fairleigh-Dickinson University. She is a former Assistant Professor of English and Black Studies at the Community College of Philadelphia.
---

Timothy Berry, Ed.D.
February 17th, 3:45 p.m. - 4:10 p.m.
He currently serves as Interim Associate Vice President for Faculty Affairs and Equity Initiatives at Minnesota State University Mankato. Having led as a dean of urban education and currently as AVP of faculty affairs and equity initiatives, he has an interdisciplinary approach to learning and leading, and loves to empower people to dream and thrive. His publications and creative research accomplishments include interdisciplinary K-12 curriculum; an new article in the International Journal, Teacher Education; a book chapter on using critical race theory to undergird the preparation of new teachers; and, an original theatrical production on race trauma, Black males and healing which has played to regional and national audiences. He frequently speaks in schools, universities, conferences, businesses, and churches to share insights and research surrounding race literacy, organizational transformation, racial justice, and antiracism. As a composer his received awards include: Live Music for Dance award from the American Composer's Forum and the Cultural Community Partnership Grant from the Minnesota State Arts Board. His performing arts credits as a singer, actor, and percussionist include August Wilson's Fences, and Black Nativity with Penumbra Theater, and La Boheme with the Minnesota Opera; appearing with Grammy Award winner, Larnelle Harris; and, recordings in a variety of music genres (R&B, Gospel, Roots Rock) including his Soul Drums series, which stems from West African, Afro-Cuban, and African American music traditions.