Recordings & Presentations
Application Walk-Through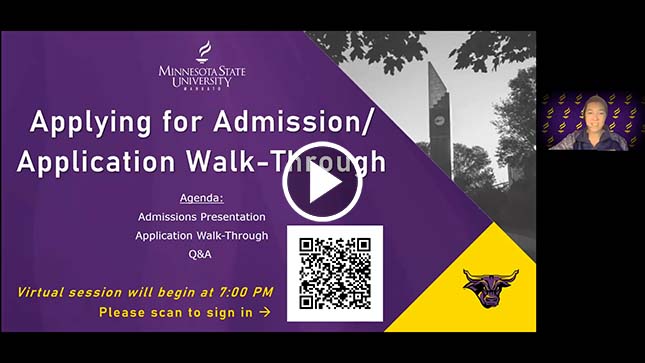 Admissions Office: Applying for Admission & Application Walk-Through includes a demonstration of the application process from an Admissions Officer.
Watch The Application Walk-Through Presentation Here

Housing and Learning Communities Information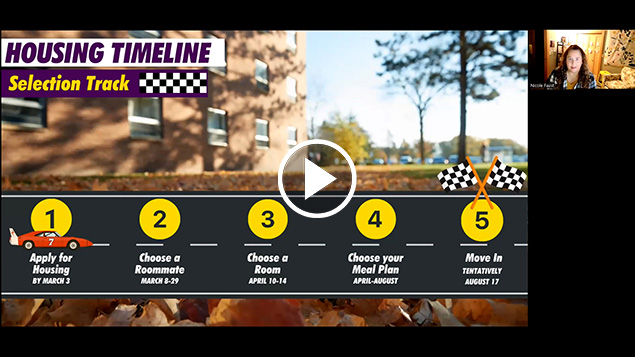 Residential Life: The Housing presentation by the Office of Residential Life covers applying for housing, selecting a roommate, selecting a room type, dining and meal plans, move-in, and resources for students and parents.
Learning Communities: The Learning Communities team presentation covers signing up for a learning community. Participants gain access to faculty, peer mentoring and advising designed to help them stay on track and finish their degree with a higher GPA in four years.
Watch the Housing and Learning Communities Presentation Here

Financial Aid and Scholarships Information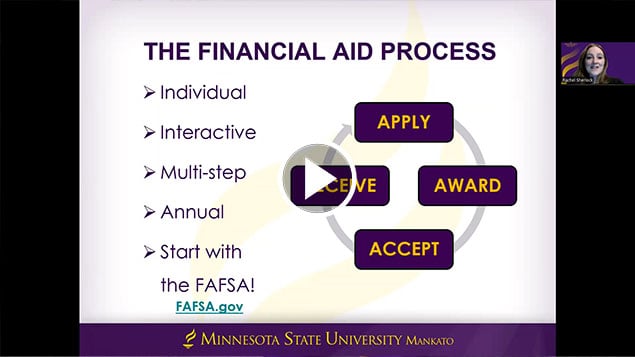 Financial Aid: The Financial Aid presentation from the office of Student Financial Services includes submitting the FAFSA, cost of attendance, expected family contribution, verification, grants, loans, and student employment.
Scholarships: The Scholarship presentation from the Director of Scholarships covers admissions scholarships for new entering high school students and transfer students. The presentation also includes information about the scholarship finder tool at Minnesota State University, Mankato.
Watch the Financial Aid and Scholarships Presentation Here

University Advising Information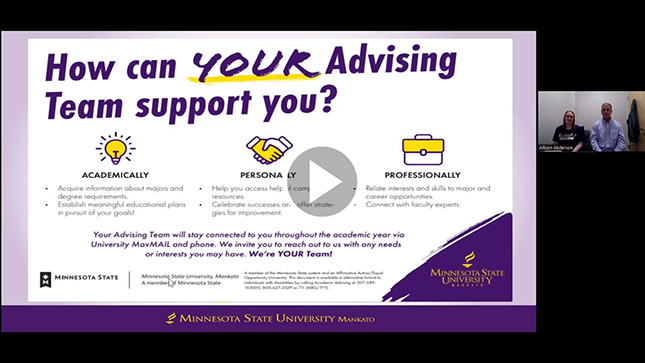 University Advising: University Advising provides advising for all undecided students who have not yet picked a major, may be unsure of their current major, or are considering a couple of majors. Presentation topics will include exploring majors, meeting your advisor, and any other academic questions you may have.
Watch The University Advising Presentation Here

Career Information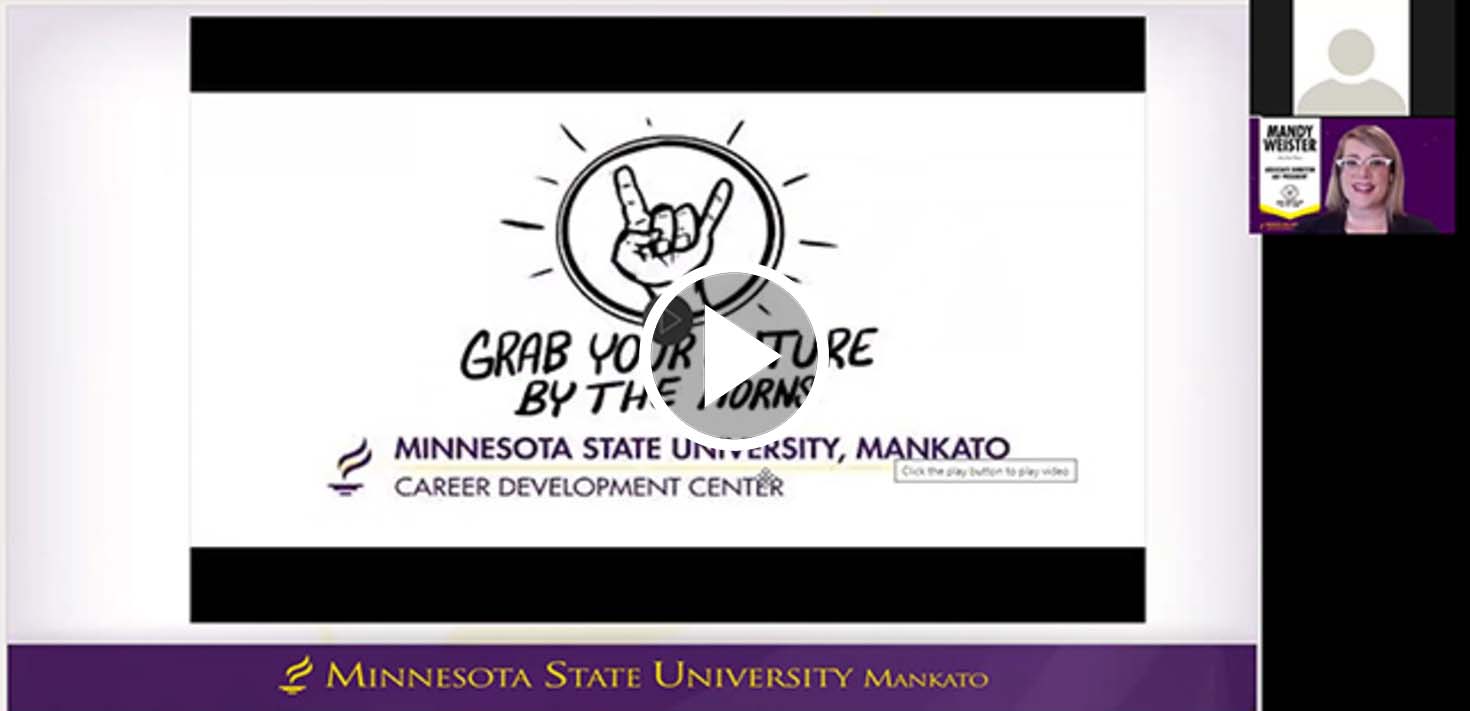 Career Development Center: Minnesota State Mankato offers one of the best values for your college experience. Our 130 undergraduate academic programs are designed for you to graduate in four years and start your career in a great job. In addition, our Career Development Office is an important resource on our campus to help you translate your classroom experiences into the real world of work.
Watch the Career Information Presentation Here

Diversity, Equity & Inclusion, and Student Activities Information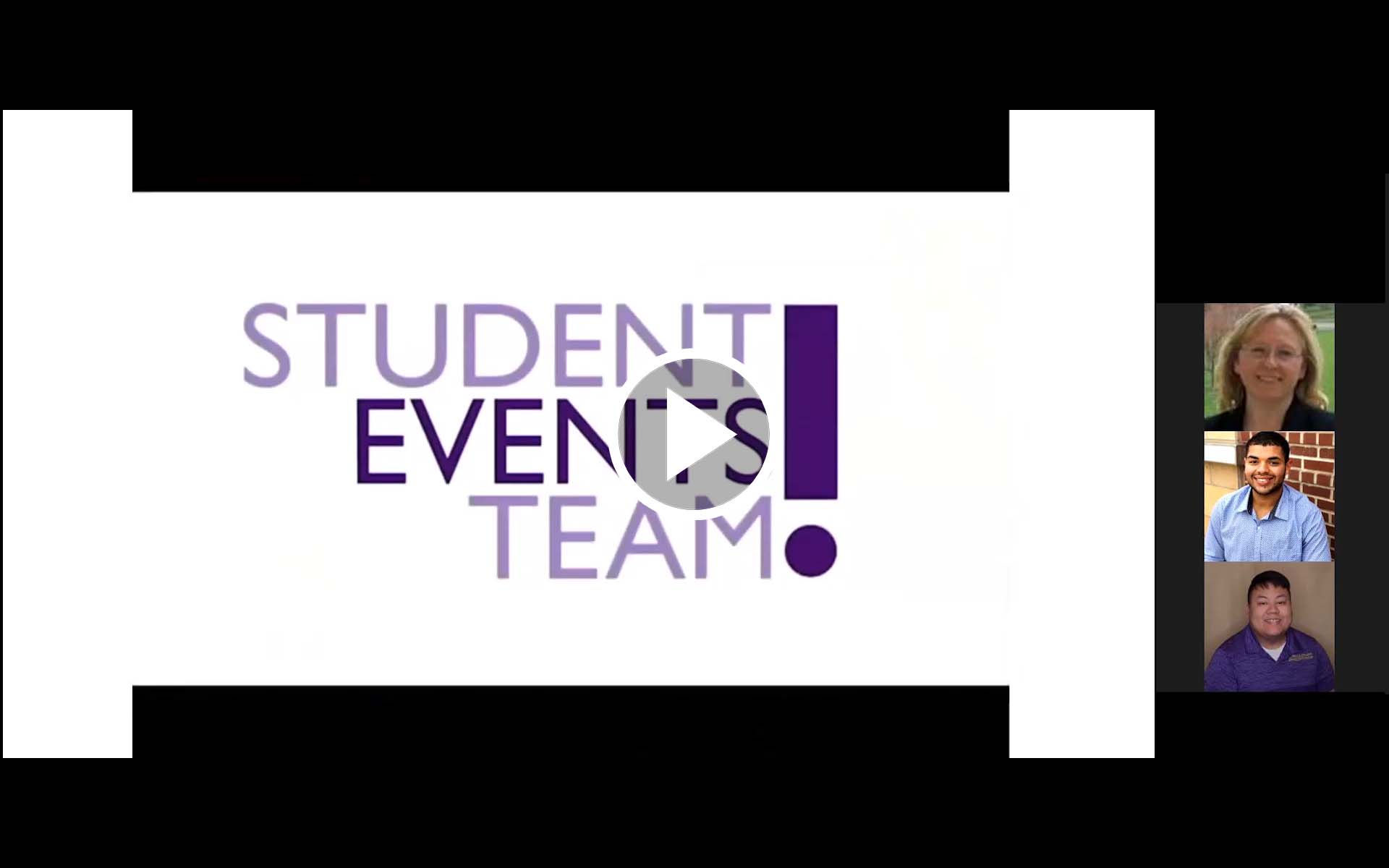 Diversity, Equity & Inclusion: Diversity, Equity & Inclusion's presentation covers the University's commitment to promoting diversity, equity and inclusion, resources and multicultural centers on campus, and upcoming DE&I events.
Student Activities: Student Activities seeks to be the center for the co-curricular experience at Minnesota State University, Mankato. Their presentation covers community engagement, fraternity & sorority life, the Maverick Involvement Team, nontraditional student resources, recognized student organizations, and the Student Events Team.
Watch The Diversity, Equity & Inclusion and Student Activities Presentation Here

Presentation Slideshow PDF Documents

Academics
Academic Support & Student Success Stories
Program Information Fact Sheets