Sorority Recruitment
While not the only time to join, Fall is the primary time for joining a sorority.
During Fall 2023, sorority recruitment will look different than in years past. In order to provide a better and more relaxed experience for all participating, the timeframe will spread out a bit more, and there will be more flexibility for women considering joining.
Check out Our Recruitment Guidebook Here
Register for Sorority Recruitment Here
Important Information About Sorority Recruitment (shared 8/31/23). Any woman participating, or thinking about participating in the Primary Recruitment Process should read this.
Structured Recruitment
"Partially Structured Recruitment" will be the primary recruitment period for our sorority community, and it will take place from August 28-September 9. Joining through informal recruitment, which takes place immediately after the structured process, is an option, but there is no guarantee that all of our chapters will be able to continue recruiting members at that time. Participating in this structured process is the best way for a woman to join in the Fall semester.
In order to particpate in the Partially Structured Recruitment, women must complete the following. Those who do not complete these things will not be eligible to receive a "bid," or invitation to join, through the structured process.
Register for Sorority Recruitment using the registration link above.
Attend one of the Fraternity & Sorority Life Info Sessions listed on this page. An info session will also be available
Attend at least one event hosted by each of the four sororities. Each chapter will host 3 events, beginning August 28. The schedule of events can be found below.
Submit their chapter priorities on Thursday, September 7.
Participate in the Preference Round, attending up to two chapter events on Friday, September 8.
Please note that this structured recruitment process is the primary way by which women join sororities at MSU. Immeditely following this process, "total," or the cap on chapter membership, set. This means that, after Structured Recruitment, some of our chapters may not be recruiting any longer. For the best chance to join a sorority, it is highly recommended that women participate in this process.
Note about suggested attire: For the individual chapter events prior to September 8, casual attire is suggested and appropriate. For the Preference Round, business casual is suggested and appropriate. This round consists of formal ceremonies for which the members will be dressed up. This being said, these are suggestions. No one should feel as though they can't participate because they do not have dressier clothes. Come as you are, or, if you would like to borrow something, we have a community of women willing to make sure you have something you feel great in, and we can discreetly get you something to wear! Email Katie at kathryn.stewart@mnsu.edu, and let her know you'd like to borrow something to wear. Include the size needed (dress/clothing and shoes, if also needed), and she'll do your best to find something for you!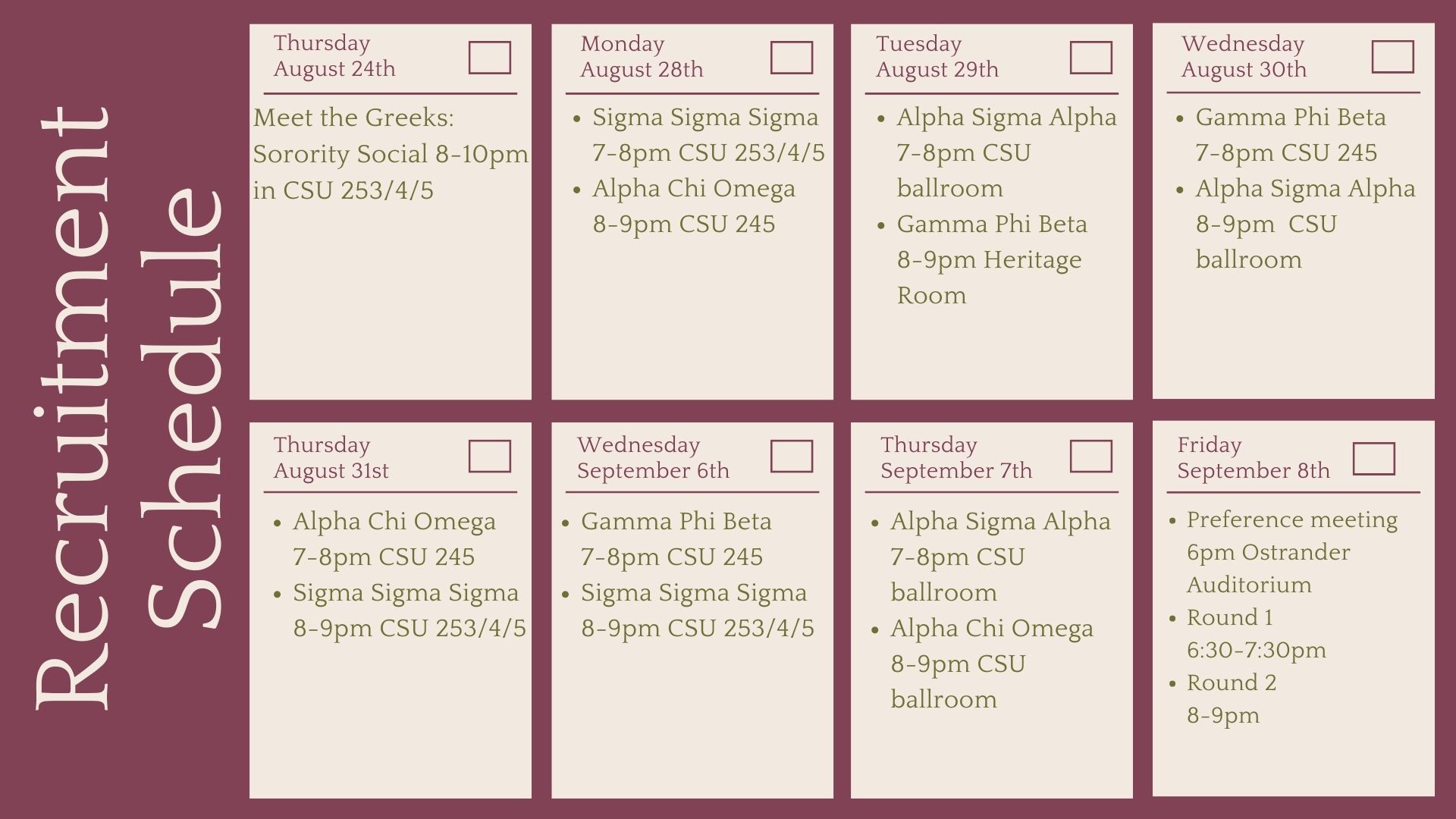 Optional Sorority Social
The sorority community will host an informal, optional sorority social on Thursday, August 24, from 8-10 p.m. in CSU 253. While this is going on, Fraternity & Sorority Life Info Sessions will be available across the hall. This event is free, and no commitment to formal recruitment is required. It's designed to a come-and-go-as-you-please feel, so if you have class until 9 or have somewhere to be at 9, no problem! Women who attend will have an opportunity to enjoy refreshments while mingling with members from our sororities and getting their questions answered. If they haven't decided to participate already, it's often times this event that helps women decide to go through with the recruitment process.
Pre-Registration:
Sorority formal recruitment requires potential new members to pre-register online or at the first event they attend. This allows us to keep potential new members better informed. There is no fee to register.
Requirements
GPA:
Typically, chapters require a 3.0 cumulative high school GPA or 2.5-3.0 cumulative college GPA, depending on whether the student is a first year student or a transfer/continuing MSU student. The requirements vary by chapter, with some being higher than others. Chapters very rarely make exceptions to their requirements, as exceptions may require approval from the organization's inter/national headquarters.
potential new member (PNM) grade release agreement
Enrollment Status:
Most of our sororities require each member to be a full time college student (12 credits or more), and a fully matriculated student at MSU. This excludes PSEO, CIS, Concurrent Enrollment, etc. Please check with each sorority if you have questions about enrollment requirements.