Fraternity Recruitment
Informal Recruitment
Men may join a fraternity at any time after they have graduated from high school and committed to attending the university. Many of our fraternities will be hosting events and recruiting new members throughout the course of the summer, leading up to the beginning of the Fall semester. New first-year or transfer students should not be surprised if they receive a phone call or email with invitations to meet with fraternities or to attend events.
Chapters will also host informal recruitment events once the semester starts. If a student, including a new, incoming student, finds a good fit, it is perfectly ok for him to join a fraternity.
A majority of men who join fraternities do so through Informal Recruitment.
Register for Structured Fraternity Recruitment Here
potential new member (PNM) grade release agreement
Contact Us for More Information
Check out our Recruitment Guide Here
structured Recruitment
Structured recruitment allows potential new members to meet each of the fraternities, with the help of Recruitment Counselors ("Bro Chis") who are current members. The process is designed to ensure the best possible fit into a lifetime of brotherhood.
Requirements for joining through the Fraternity Structured Recruitment Process
Attend Both Nights of "House Tours" and visit all chapters.
Attend "Preference Day" at 2 chapters
Receive your bids and select one.
register for structured fraternity recruitment here.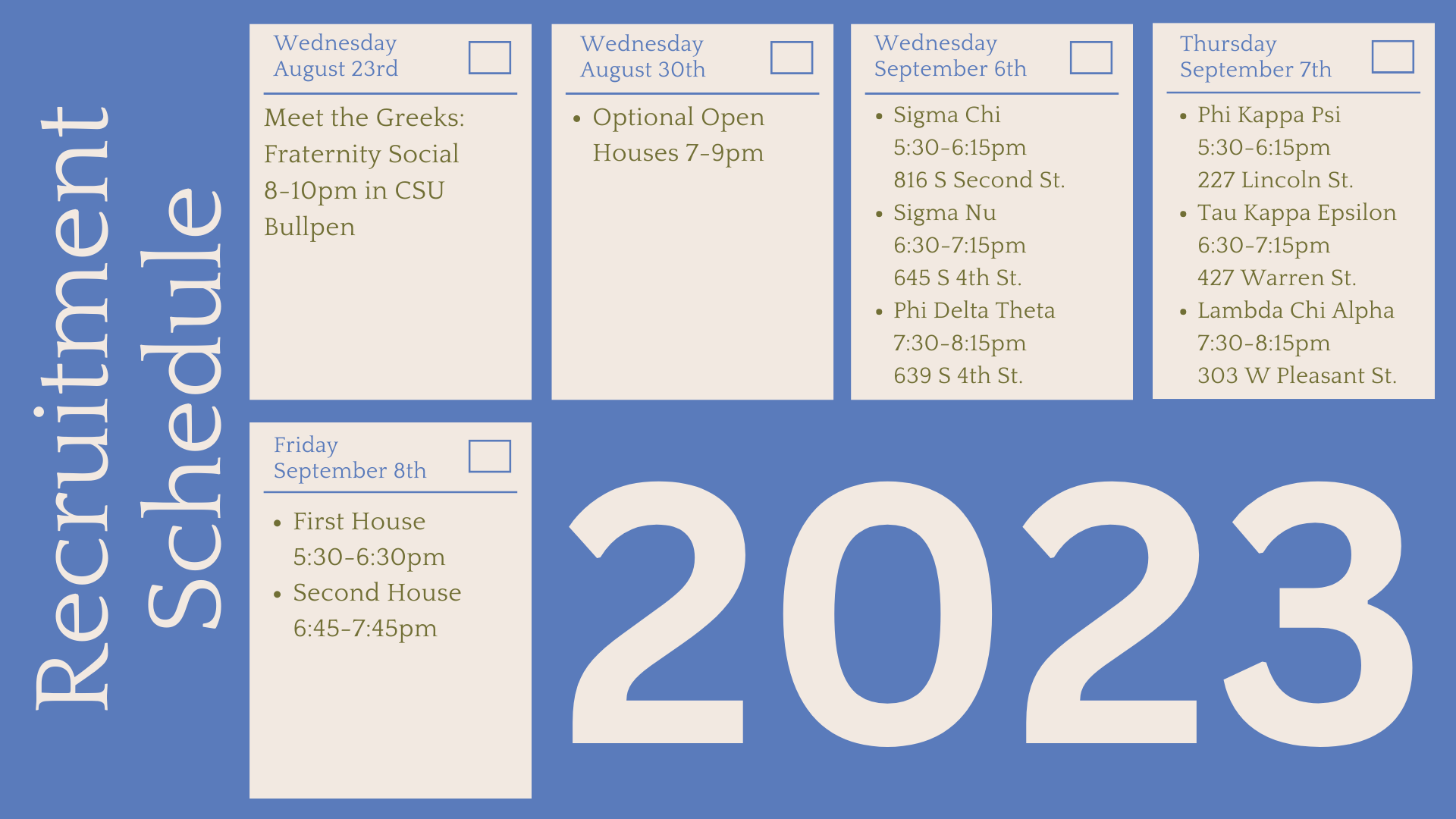 Fraternity Meet & Greet
Join us on Wednesday, August 23, from 8-10 p.m. in the Maverick Bullpen. Meet members of all of our fraternities, and get your questions answered!
The fraternity community will host an informal, optional Fraternity Meet & Greet. This event is free, and no commitment to structured recruitment is required. It's designed to a come-and-go-as-you-please feel, so if you have class until 9 or have somewhere to be at 9, no problem! Men who attend will have an opportunity to enjoy refreshments while mingling with members from our fraternities and getting their questions answered. If they haven't decided to participate already, it's often times this event that helps guys decide to go through with the recruitment process, whether structured or informal.
If you have any questions regarding the fraternity formal recruitment process, email the community recruitment counselors via email, at maverickfsl@mnsu.edu.
Any man joining a fraternity must be an MSU student (or incoming student) who has graduated from high school and who has a minimum 2.5 GPA. The GPA used for determining eligibility is the cumulative high school GPA for any student who has not yet taken any college courses since graduating from high school. For any student who has taken college courses since graduating from high school, the cumulative college GPA is considered.