Serendipity Music Series
ABOUT THE SERENDIPITY MUSIC SERIES
The ongoing Serendipity Music Series in the Centennial Student Union at Minnesota State University, Mankato, offers free mid-week, mid-day performances for the campus and Mankato area community that spotlight Minnesota musicians with "street-corner serenade" style performances. Passers-by can stop to listen or bring their lunch and enjoy some of Minnesota's finest musicians. The performances during fall and spring semesters are sponsored by the Centennial Student Union with support through the student activity fee.
Next Performance:
DUELING PIANOS: TOM HUNTER & SCOTTIE MILLER
WEDNESDAY, APRIL 13, 2022
11AM-1PM | CSU Hearth lounge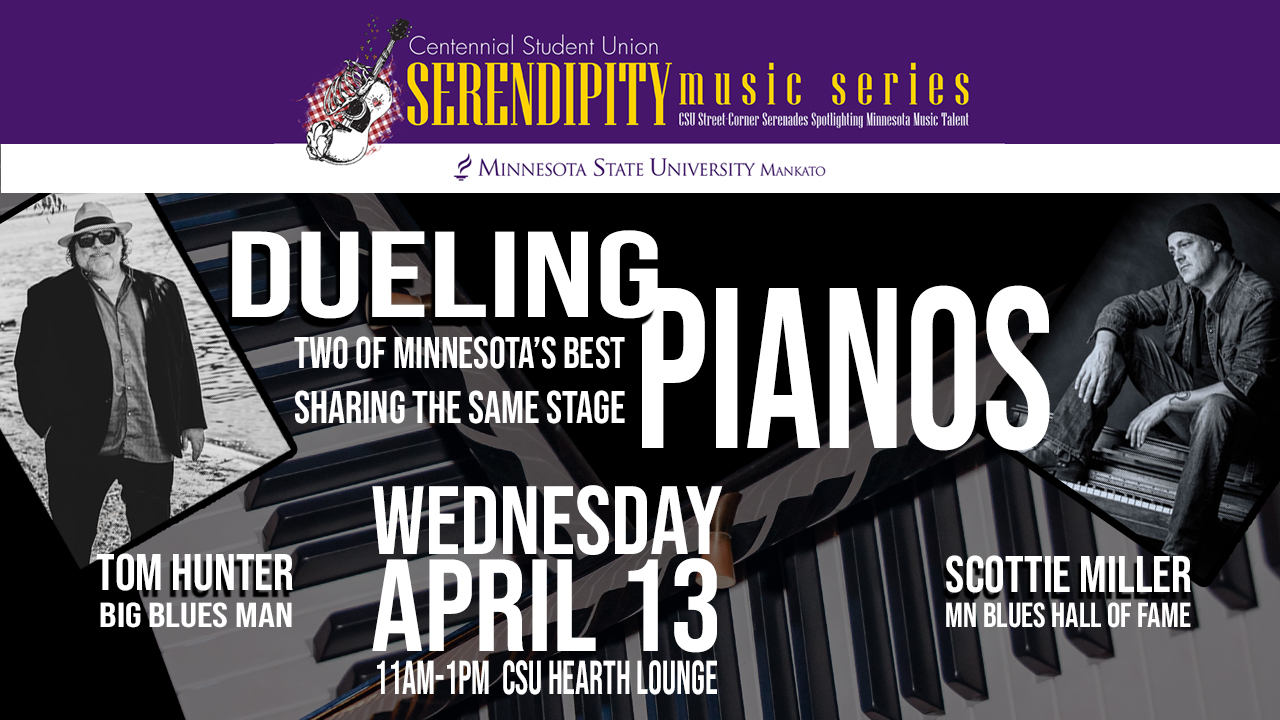 Two greats among Minnesota piano professionals, Tom Hunter and Scottie Miller have never crossed paths - until now. For the first time, Tom and Scottie will join forces for two hours of music spanning from rhythm and blues to New Orleans jazz. The two will share the stage for a free mid-day performance on Wednesday, April 13, from 11 a.m. to 1 p.m. in the Centennial Student Union Hearth Lounge as part of the ongoing CSU Serendipity Music Series.
TOM HUNTER: A self-taught rhythm and blues player, Tom has become a fixture with the CSU Serendipity Music Series where he has performed numerous times in recent years. His large hands float across the keys to create a style that is part boogie-woogie, part blues and part Rat Pack jazz. Combine that with Tom's smooth bass-baritone vocals that cover everything from Sinatra to Etta James.
These days, Tom is half of the Soave Brothers duet. Brothers of different mothers, the dual has Tom (Blanco)on piano/vocals with Frank Johns (Aldo) on guitar. They recently released their album EST 1964.
SCOTTIE MILLER: Two-time inductee into the Minnesota Blues Hall of Fame, Scottie "Bones" Miller ranks among Minnesota's finest with a signature piano style and vocal quality that reaches far south into sounds from New Orleans and Memphis. Grounded in blues and rock, his music also lends itself to soul, R&B, country and jazz elements.
Along with creating the Scottie Miller Band in 2000, Scottie also was touring keyboardist for blue legend Bo Diddley as well as for three-time, Grammy-nominated singer Ruthie Foster. As a singer-songwriter, Scottie collaborated with Ruthie Foster to co-wrote "I Was Called," a song later recorded by gospel group The Blind Boys of Alabama.
Scottie was inducted into the Minnesota Blues Hall of Fame for both Contributions to Blues Music and Heritage (for his instructional book Rock Keyboards published by Hal Leonard), and in 2018 as Blues Performer, the Hall of Fame's highest honor.
Upcoming Performances:
Mark Joseph and The american soul
WEDNESDAY, APRIL 27, 2022
11AM-1PM | Fountain Mall
(Rain site) CSU Hearth lounge