Staying Safe on Campus
Minnesota State University, Mankato is committed to creating a safe and secure environment for all students, faculty, and staff. The University Emergency Preparedness information has been developed to assist the University in meeting this goal. All students and employees are encouraged to regularly review the information provided and become familiar with suggested recommendations concerning disasters or emergencies that may impact the University Community.
Emergency Response Guide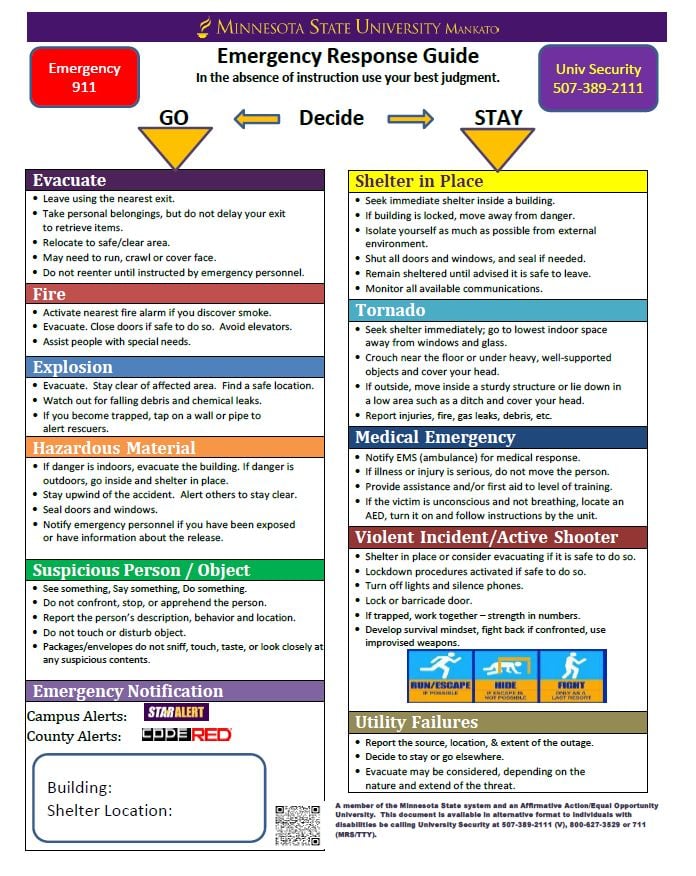 The Emergency Response Guide was developed to be posted in spaces around campus for quick reference in the event of an emergency. Community members are encouraged to print and hang copies in their spaces. Laminated copies are available by contacting University Security.
---
Classroom Safety
---
Personal Safety
Help prevent crime on campus, please take time to read below for your personal safety. If you are aware of any criminal or illegal activity at Minnesota State University, Mankato, notify University Security (507-389-2111). Employees of the University are required to report criminal activity on campus.
Traveling by Foot
Walk on well lit routes.
Have your keys in hand and be ready to open a locked door.
Call for a University Security for a Safe Walk: 507-389-2111 V/TTY.
When possible let someone you know and trust aware of your return time and route.
Avoid walking alone at night.
Refrain from taking shortcuts; walk where there is plenty of light and traffic.
Harassing Phone Calls
Hang up. As soon as you hear an obscenity, improper question, or no response to your "Hello?" hang up!!
Don't talk to strangers. Be careful when the caller says he/she is taking a survey. If you have any concern about the legitimacy of the survey, ask the person for their name and telephone number. Do not give out any personal information that makes you feel uncomfortable.
Don't play detective. Don't extend the call trying to figure out who is calling. This or any other type of reaction is exactly what the caller wants and needs.
Keep cool. Don't let the caller know you're upset or angry.
Don't try to be clever. A witty response may well be interpreted as a sign of encouragement.
Don't try to be a counselor. The annoyance or obscene caller certainly needs professional help, but this person is only encouraged by your concern. He/she will only continue the calls and will enjoy themselves while you get upset.
Never volunteer your name to an unknown caller. This is an invitation to call again. If it is a wrong number, the problem is not corrected by your giving the caller your name.
Don't panic. Remember when the phone rings it may just be a wrong number. However, if it continues, use the following instructions.
Report obscene or annoying calls to Security and the Department of Public Safety. Log what time the call was made, what was said, the characteristics of the caller, and what you did. The authorities will need this information. By reporting the call, you have begun the process to stop these calls.
If the calls persist and you live in the Residence Halls, you may want to speak with the Residential Life Office staff about possibly getting your telephone number changed.
Registered Sex Offenders
Information regarding potential, registered sex offenders that may work or reside on campus can be found on the Minnesota Department of Corrections website. Additional questions may be answered by contacting the Mankato Police Department at 507-387-8700.
Be Aware
Be aware of strangers wandering aimlessly around your office or work area. If you notice a suspicious person or activity taking place contact Security (2111). Inform the dispatcher of the situation, where it is taking place, a description of individual(s) and number of persons involved.
Protecting Your Property
Personal property (purses, laptops, calculators, etc.) should never be left unattended. Take such items with you when leaving a classroom or residential hall.
Never open exterior doors of the building to strangers or non-residents. Always escort your guests to and from the main entrance doors.
You are encouraged to open a savings or checking account rather than allow large sums of money to accumulate in your room. If you open a checking account, remember the number of the last check written. The theft of a single check can go undetected until a bank statement discloses a forgery.
Park your bike where you can keep an eye on it if possible. Always lock your bike. There are several good anti-theft devices available. Case hardened heavy locks and chains afford the best protection.
Avoiding Laptop Theft
Laptop computers have become prime targets on campus. With laptops valued up to $5,000 the incidence of thefts are increasing. Below are several strategies that may prevent the theft of laptops or aid in their recovery should become a victim.
Never leave your laptop unattended.
Keep your laptop from accessible windows where a thief can quickly break the window, reach in and remove the machine from your room.
Keep your residence hall room locked at all times.
In a residence hall, be mindful of having a laptop unattended in common spaces, such as the study lounge, kitchens, etc. Because the residence hall is viewed as home, it is easy to become too trusting and complacent.
The doors to labs, office spaces, and residence hall rooms should be secured whenever your laptop is left unattended. If possible, the laptop should be stored in a locked file cabinet or secured with a locking device.
Record the make, model and serial number of your computer and devices associated with it.
Report the theft of your laptop immediately to Security.
Report suspicious activity to Security immediately.
Do not leave your laptop unattended at the library. It takes seconds for a thief to walk away with your laptop.
Protecting Your Automobile
Always lock your doors and never leave your keys in the vehicle.
Avoid leaving property where it is visible.
Keep windows up and doors locked.
Keep gas tank above 1/2 a tank and keep a map in the car.
Park in well lit areas and check for loiterers.
Try to park close to your destination.
When getting into a parked car, check the back seat and floor for strangers.
Additional Safety Tips
Secure Your Keys - Keep personal and university keys secure at all times. Do not loan your keys out.
Secure Valuables - Keep valuables in a locked cabinet or drawer. Do not leave book bags unattended; it only takes a few seconds for a theft to take place.
Lock Your Office and Room - Make sure that your office or room is locked when you leave. Do not rely on anyone else to do it for you.
Report Losses - Report any loss or theft of keys, equipment, or valuables immediately to Security at 2111.