Roommate Matching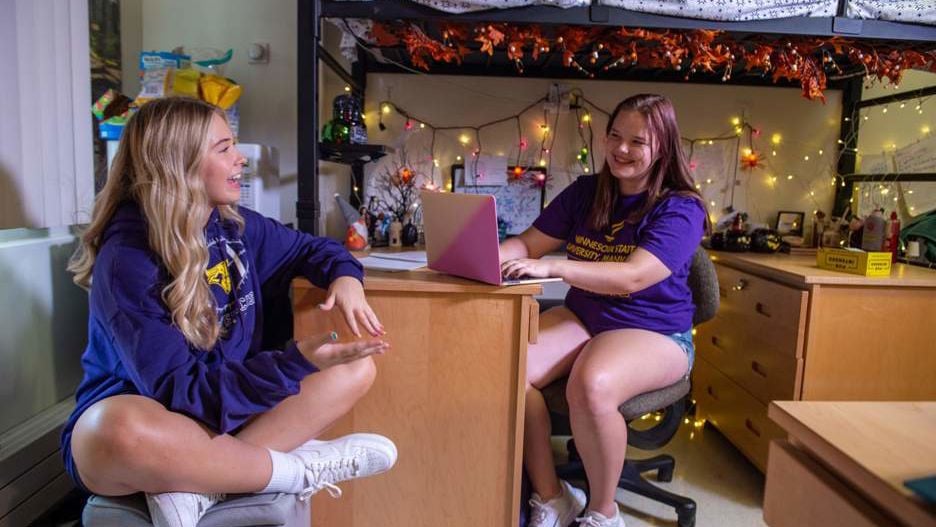 Apply for housing by February 16 to be eligible to select your own roommate.
---
Incoming, First-Year Students (Starting Fall 2024)
You have options when it comes to selecting a roommate.
If you meet the February 16 priority deadline: You will be eligible to participate in Roommate Matching in the Housing & Dining Portal. This feature allows you to search the profiles of incoming students or select a student you already know. When you make a match, you'll create a roommate pair to lock in your roommate choice.

The date you create a roommate pair DOES NOT affect when you'll pick a room. You'll have 3 weeks to create a pair, so there's no need to panic on the first day.

If you don't want to choose a roommate, another student will be paired up with you.

Participation is optional.

Roommate assignment by Residential Life: If you apply for housing after February 16 OR do not select a roommate during Roommate Matching, Residential Life will pair you with a roommate and you will be notified after an assignment has been made.
Learning Community Students: Students in Learning Communities can participate in Roommate Matching with all incoming students or just their specific learning community (you will have access to both groups!) Learn more.
---
To Search and Find your Own Roommate
Beginning at 9 a.m. on Monday, February 26, follow these steps:
Login to the Housing & Dining Portal using your StarID/password and select your housing application. Under Application Progress, click continue.
Select the heading ROOMMATE PAIRS.
Three search options will be available in the bottom right corner of the screen.


SEARCH FOR ROOMMATES BY DETAILS: This allows you to search for roommates based on screen name, description, gender, or age. Use this option if you already know who you want to live with.
SEARCH FOR ROOMMATES BY PROFILES: This allows you to search for specific profile items such as level of cleanliness, personality, or study habits. This will return search results of students that match your criteria.
SUGGEST ROOMMATES: This allows you to view a list of students that most closely match your profile.
---
How to Search for a Roommate
If you find a student that might be a match, message them within the housing portal to get to know them better. If you decide to be roommates, you will need to create a Roommate Pair.
---
How to Create or Join a Roommate Pair
A roommate pair is 2 students who want to share a room together. By creating your pair in advance, you can ensure that everyone is together on the day the room is selected.
All members of a Roommate Pair must accept their invitation to join by 11:59 p.m. on Friday, March 15. If you created a Roommate Pair, we suggest checking the housing portal to make sure your roommate has joined by the deadline. If they do not accept the invitation, they will not be included in your Roommate Pair and you cannot add them later.
---
Choose your Roommate and Create a Roommate Pair by March 15
Roommate Matching is available in the housing portal until 11:59 p.m. on Friday, March 15. You have three weeks to search for and select a roommate. If you do not select a roommate, a roommate will be assigned to you.