Student Life
Beautiful Contemporary Campus
Come see our modern buildings, labs and classrooms with great technology to assist your learning. We have a beautiful fountain that is perfect to study near or have coffee with friends.
There's also a bell tower that plays a beautiful tune every hour. Everything on campus is within a short walking distance, yet still provides plenty of personal space for studying.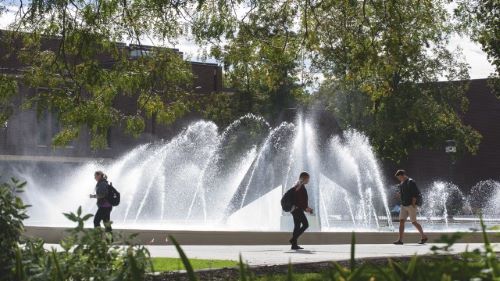 Recreation and Athletic Facilities
We have rock climbing, personal training, club and intramural sports, outdoor equipment rentals and a variety of modern recreation facilities. You will find no shortage of things to keep you busy and in shape!
Entertainment
Weekly campus events including guest speakers, music, movies, workshops and special interest events… all free or low cost to Minnesota State Mankato students!
International Community
Over 1,000 international students come to Minnesota State University, Mankato from around the world! Over 90 countries are represented in our international student population!
Friendship Family Program
Interested students are matched with local families through this program which helps to foster community support and engagement.