Graduate/Teaching Assistantships and Your I-20
Kearney International Center staff can include graduate, teaching or research assistantships as part of your Form I-20's funding section. To have the assistantship added, please follow these procedures:
Graduate applicants are not guaranteed a graduate/teaching/research assistantship and are responsible for applying to open positions. Applicants must typically send a cover letter and resume along with their assistantship application. KIC staff recommends that all international candidates review American standards for cover letters and resumes before applying to any positions.
You will find open positions available on the Graduate Assistantship Opportunities webpage.
Official employment offer letters are important for two reasons:
Kearney International Center staff can only use official offer letters to verify the funding offered by the employing department.
Embassy and consulate officials will verify that your employment is on-campus and related to your program of study.
If your potential employing department does not automatically provide you with an official offer letter, you can send the following requirements to your future supervisor and request an official offer letter.
Offer letters must meet the following requirements:
Printed/Written on University or Department Letterhead
Must indicate the position title and the MNSU department
Must include the employment start and end date
Should indicate the type of support provided, such as:

Number of Credits Waived per Semester
Stipend
When requesting your Form I-20, the official offer letter may be used as evidence of financial support. Assistantships must be recorded in the "Source of Funds" section of the Form I-20 Request and you must upload the official letter by clicking on the blue button.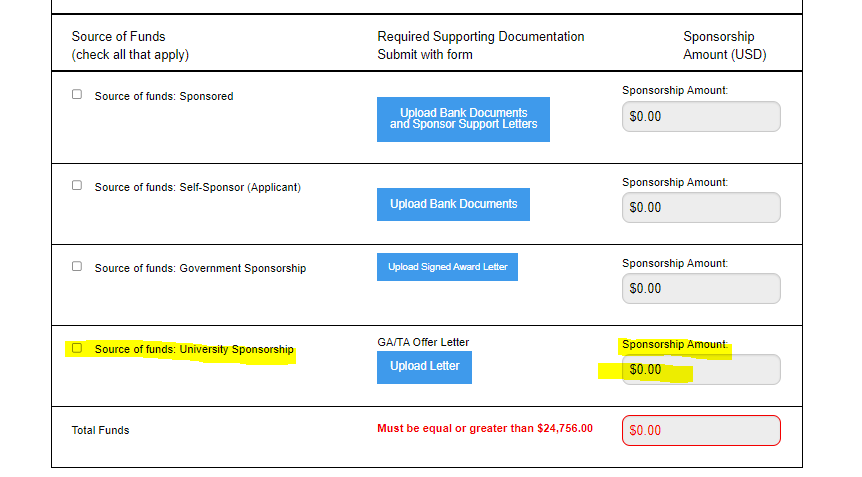 Kearney International Center staff have calculated the monetary equivalent of the most common assistantship offers. Review the most common assistantship award amounts below:
| | | |
| --- | --- | --- |
| Your Program | Dollar Amount for Form I-20 Request | Amount Student Must Prove |
| MOST MASTER'S PROGRAMS | $24,620 | $5,598 |
| MASTER'S OF SOCIAL WORK & GRADUATE TEACHER LICENSURE PROGRAMS | $25,776 | $5,598 |
| PSM IN GEOGRAPHIC INFORMATION SYSTEMS/ENGINEERING MANAGEMENT/HEALTH INFORMATICS & ANALYTICS | $29,254 | $5,598 |
| MASTER'S OF COMMUNICATION SCIENCE & DISORDERS | $25,560 | $5,598 |
| MASTER'S OF ADVANCED DENTAL THERAPY | $36,636 | $5,598 |
| MASTER'S OF ATHLETIC TRAINING | $25,534 | $5,598 |
| MASTER'S OF SPORT & EXERCISE PSYCHOLOGY | $26,078 | $5,598 |
| DOCTORATE PROGRAMS | $30,840 | $5,598 |
| DOCTOR OF NURSE PRACTICE | $41,980 | $5,598 |
| | | |
| --- | --- | --- |
| Your Program | Dollar Amount for Form I-20 Request | Amount Student Must Prove |
| MOST MASTER'S PROGRAMS | $18,465 | $11,753 |
| MASTER'S OF SOCIAL WORK & GRADUATE TEACHER LICENSURE PROGRAMS | $19,332 | $12,042 |
| PSM IN GEOGRAPHIC INFORMATION SYSTEMS/ENGINEERING MANAGEMENT/HEALTH INFORMATICS & ANALYTICS | $21,940 | $12,912 |
| MASTER'S OF COMMUNICATION SCIENCE & DISORDERS | $19,170 | $11,988 |
| MASTER'S OF ADVANCED DENTAL THERAPY | $27,477 | $14,757 |
| MASTER'S OF ATHLETIC TRAINING | $19,150 | $11,982 |
| MASTER'S OF SPORT & EXERCISE PSYCHOLOGY | $19,558 | $12,118 |
| DOCTORATE PROGRAMS | $23,130 | $13,308 |
| DOCTOR OF NURSE PRACTICE | $31,485 | $16,093 |
| | | |
| --- | --- | --- |
| Your Program | Dollar Amount for Form I-20 Request | Amount Student Must Prove |
| MOST MASTER'S PROGRAMS | $12,310 | $17,908 |
| MASTER'S OF SOCIAL WORK & GRADUATE TEACHER LICENSURE PROGRAMS | $12,888 | $18,486 |
| PSM IN GEOGRAPHIC INFORMATION SYSTEMS/ENGINEERING MANAGEMENT/HEALTH INFORMATICS & ANALYTICS | $14,627 | $20,225 |
| MASTER'S OF COMMUNICATION SCIENCE & DISORDERS | $12,780 | $18,378 |
| MASTER'S OF ADVANCED DENTAL THERAPY | $18,318 | $23,916 |
| MASTER'S OF ATHLETIC TRAINING | $12,767 | $18,365 |
| MASTER'S OF SPORT & EXERCISE PSYCHOLOGY | $13,039 | $18,637 |
| DOCTORATE PROGRAMS | $15,420 | $21,018 |
| DOCTOR OF NURSE PRACTICE | $20,990 | $26,588 |