Poll Everywhere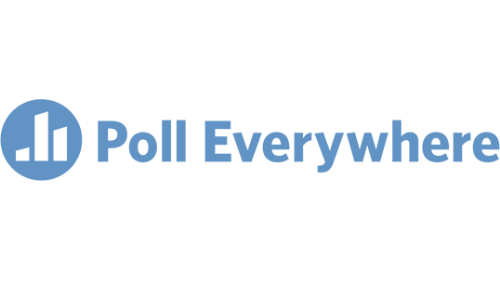 What is Poll Everywhere?
Poll Everywhere is an audience response system designed to help bring presentation and lectures from static to interactive.
Faculty can easily embed live polls into their digital presentations and get responses from students in the blink of an eye.
Learners can respond via a laptop, tablet, and any mobile device by navigating to a webpage or the Poll Everywhere app.
SMS texting options for response are also available for most question types/polls.
How do I get a premium account with Poll Everywhere?
If you would like a premium account with Poll Everywhere or you want to bring a previous Poll Everywhere account under our license, please submit a ticket to the IT Solutions Center requesting creation or transfer.
There will be no loss of polls or audience response data when you move your account. If you have any questions about this process please direct them to the IT Solutions Center.
Helpful Links
Poll Everywhere website to login and create polls.
Poll Everywhere instructional videos, a series of tutorials, feature showcases, webinars, and more created by Poll Everywhere on its use and fuctionality.
Poll Everywhere Quick Response, a portal to quickly enter in a presenter's name and be able to respond to their active polls.
Getting Starting with Poll Everywhere
This document outlines 10 strategies for engaging learners with Audience Response Systems.